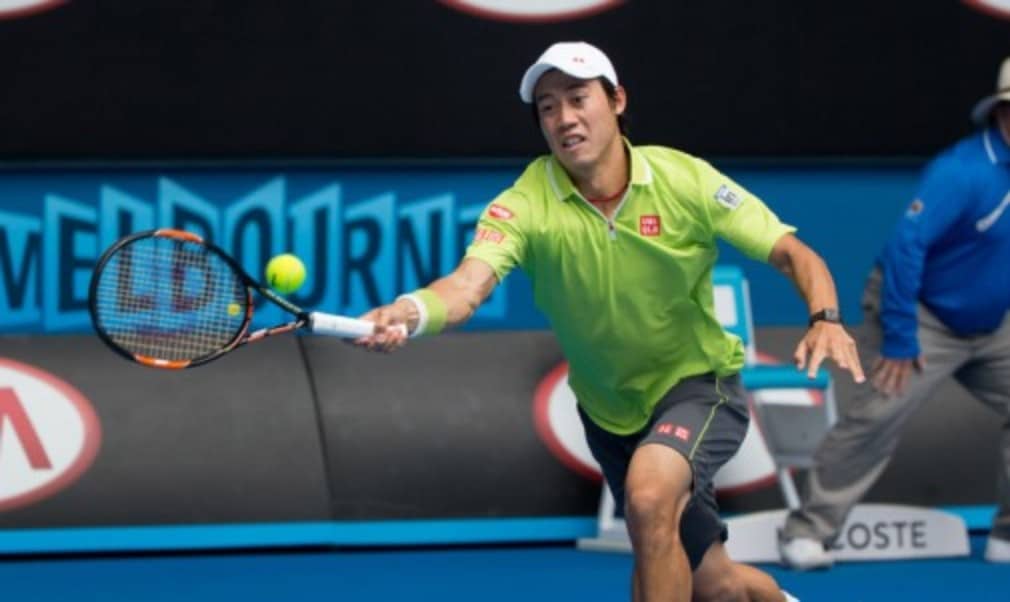 Nishikori listening to coach Chang
Originally published on 28/01/15
He may have been defeated in the quarter-finals by defending champion Stan Wawrinka but he is taking experience away from the tournament that he thinks will help him settle into his newly established position near the top of the world rankings.
"It wasn't really a bad week. It's not easy getting to the quarterfinals. I have to keep doing this," he said after his straight sets defeat to Stan Wawrinka. "I think I need these kind of experiences, playing tough all the time, playing a lot of matches, especially at Grand Slams, where there is more pressure. I think you get more experience at Grand Slams."
En route to the quarter final he defeated David Ferrer in straight sets but on Thursday he got off to a slow start against Wawrinka, but as the match wore on he became more aggressive.
"I started to feel more comfortable in the third set, especially after I found a couple of points where I could be more aggressive than in the first and second sets," he said. "I was struggling with my serve and that's why I couldn't get a good rhythm in the first and second sets, but he was serving well."
Nishikori had the best season of his career last year. Not only did he progress to the final of the US Open, where he enjoyed victories over Milos Raonic, Wawrinka and Novak Djokovic, but he also won four tour titles, in Memphis, Barcelona, Kuala Lumpur and Tokyo. At the end of the year he qualified for the first time for the season-ending Barclays ATP World Tour Finals. He also led Japan into the World Group of the Davis Cup for the first time thanks to victory against Canada.
At the beginning of last year he started working with Michael Chang, the former world No.2 and 1999 French Open champion.
"I have seen a lot of improvement," he said of the last 12 months. "Not just in my tennis but mentally I have got stronger too and I think physically I'm a little more fit than before."
Chang, who has a young family, travels with his charge for about half of the year and takes a cautious approach to the speculation about when Nishikori will make the break through and win a Slam.
"I think it's a matter of taking things match by match. We've had a lot of questions over the past couple of months, about breaking through and winning that first Grand Slam, where's it going to be and all these kind of questions. At the end of the day it still comes down to each day and taking things little by little."
Speaking at Melbourne Park before Nishikori's match against Wawrinka and referring to the early exit of Roger Federer Chang said: "You can't really look too far ahead as we have found out this tournament already. There are just too many good players and the depth of the draws is just too deep now. He has been doing well, taking it match by match. He had a great match against David [Ferrer]."
Both Nishikori and Chang talk about the mental strength that a player needs to possess to not only lift a Grand Slam title, but to progress through each round.
"We all know everyone can come out here and play great tennis, they all hit great forehands and backhands and serves but the mindset is another element," Chang said.
With Chang in his corner and having already made history for Japanese tennis, at the US Open when Nishikori became the first Asian man to contest a Grand Slam final, you suspect a Grand Slam title may not be far away.
This story is bought to you by Wilson, official sponsor of Tennis Australia and the Australian Open