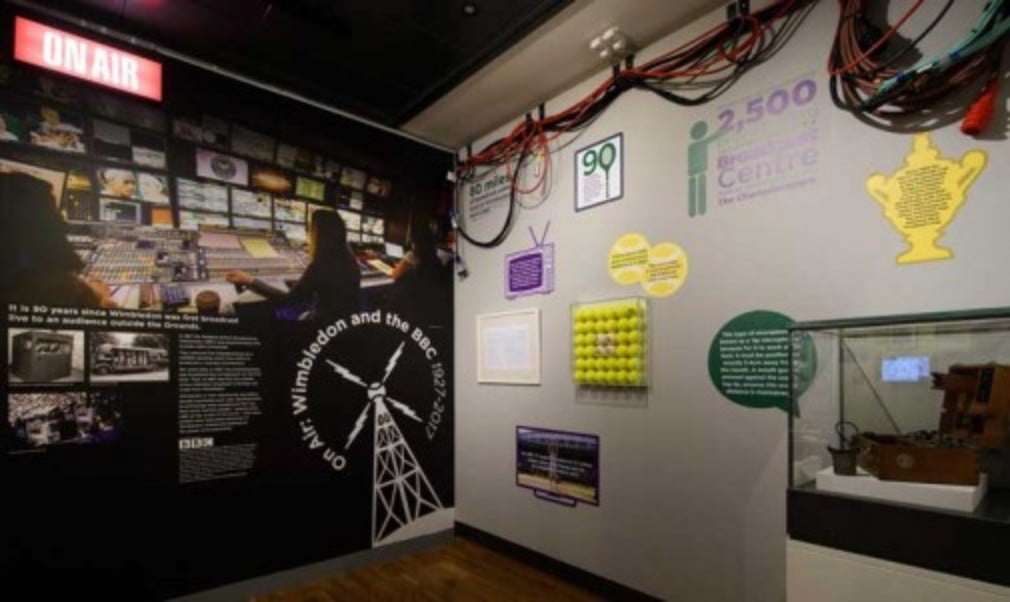 Ninety years of broadcasting at Wimbledon
Originally published on 07/04/17 00:00
With the longest-running partnership in broadcasting history, Wimbledon and the BBC are as synonymous as strawberries and cream.
By pure coincidence, the BBC is celebrating three milestone anniversaries at Wimbledon this year, and the Wimbledon Lawn Tennis Museum is paying tribute to a rich history of broadcasting at the All England Lawn Tennis Club with its new exhibition, On Air: Wimbledon and the BBC 1927-2017.
Not only does this year's tournament coincide with the 90th anniversary of the first radio broadcast from Wimbledon, it is also 80 years since the first TV broadcast, and 50 years since the first colour TV broadcast of The Championships.
Featuring a Chakaphone radio, Bush CTV25 colour television and a 1937 EMI Emitron camera on loan from the National Science and Media Museum in Bradford, the exhibition documents the history of broadcast innovation at Wimbledon.
"We are delighted to exhibit such a fascinating collection of items which commemorate the history of the relationship between the BBC and Wimbledon," said Anna Renton, Curator at the Wimbledon Lawn Tennis Museum. "We are proud that The Championships has been at the forefront of broadcast innovation, and we look forward to bringing that story to life for our museum visitors."
Alongside tickets, programmes and scorecards from 1927, a copy of the Radio Times from 1967 and an interactive archive of commentary ranging from Captain Teddy Wakelam in 1927 to Tim Henman in 2016, the exhibition also features a number of charming anecdotes from the 90 years of broadcast history after Renton and her team, together with a team at the BBC, delved into the archives.
"This is a captivating exhibition, showcasing a broadcast relationship that goes back 90 years," said Barbara Slater, Director of BBC Sport. "It's a wonderful opportunity to look back on how BBC coverage has developed over that time while also finding out more about what goes into broadcasting such an iconic event."
All images ©AELTC/Thomas Lovelock
Wimbledon Lawn Tennis Museum is open daily 10am to 5.30pm (including weekends and Bank Holidays). Closed July 2-18 (except to Championships ticket holders July 3-16). Click here for more information.