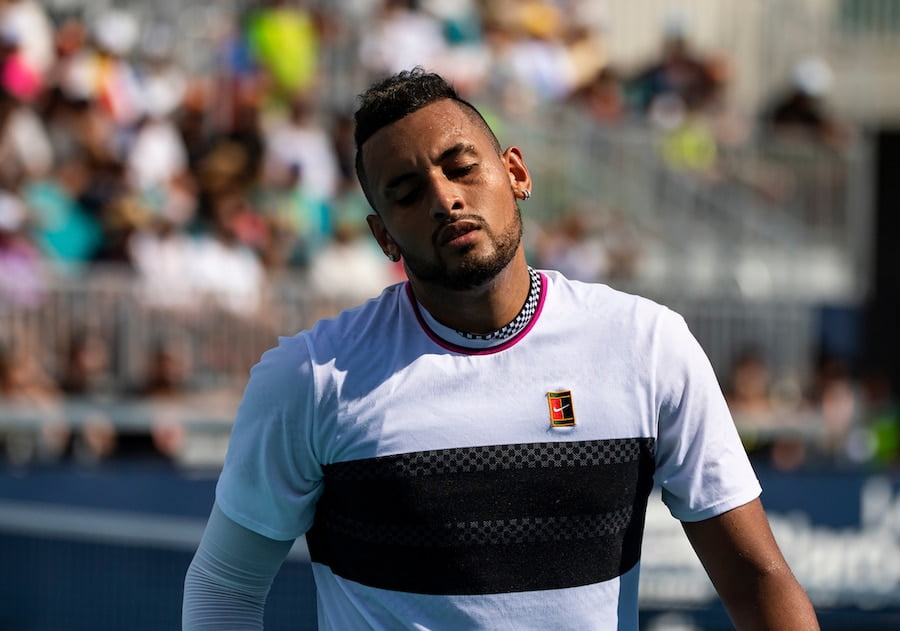 Nick Kyrgios through to Wimbledon second round after topsy-turvy five setter
Nick Kyrgios overcame compatriot and childhood friend Jordan Thompson 7-6 3-6 7-6 0-6 6-1 in what was a very unscripted affair.
Nick Kyrgios made his name when he beat Rafael Nadal as a 19 year old at the 2014 Wimbledon, whilst Thompson is still yet to win a match at Wimbledon despite being in the 1st round for the fourth time.
In the 102nd Open Era Wimbledon meeting between two Australians, Kyrgios was able to fight back from 5-3 down whilst Thompson was serving for the first set. Kyrgios hit a 135mph second serve ace to bring the set back to 5-5, and went onto win 7-4 in the subsequent tiebreak.
Just one place separates these two in the rankings, showing how many would have expected it to be a close match-up. Thompson showed no signs of resignation and went onto break Kyrgios twice in the second set to take it 6-3. Both men shared frustrations during the set due to noise and distractions coming from the crowd, though Kyrgios showed continued efforts to talk to and engage with his audience.
The third set had it all. Both men received code violations, with Kyrgios whacking a ball out of Court 3, and Thompson smashing a racket.
Kyrgios was able to break his opponent at 5-5 to set up the opportunity to serve for the set. But on his first set point he threw it away when he attempted his trademark underarm serve, only to be smashed back by Thompson. A tiebreak followed that saw Kyrgios have six set points. He was able to convert the last one as Thompson sent a volley into the net.
A bizarre fourth set followed in which Thompson gained an early 2-0 lead and Kyrgios seemed to crumble. He rushed points and appeared to not bother in returning serves, handing his opponent the second set 6-0 in just 18 minutes.
Kyrgios regenerated himself for the fifth set however, looking much more reserved and conservative in winning points and waiting for errors from his opponent. It was Thompson who collapsed in this set, and Kyrgios who surged. A down the line passing shot secured him a break and a 3-1 lead. A fortunate net cord two games later secured a double break for the 24 year old, who went on to serve the match out after more than three and a half hours.
Kyrgios sets up a potential Wimbledon rematch with Nadal in the second round, if he overcomes his Japanese opponent Yuichi Sugita later today.
Enjoy Wimbledon even more with our exclusive, 164 page, 'Guide to Wimbledon 2019'
To find out how to get tickets for Wimbledon this year read our 9 point guide here
For all the latest Wimbledon news before, during and after the tournament make sure you bookmark our 'Wimbledon News' section here
If you can't visit the tournament then do the next best thing and read our guide on how to watch Wimbledon on television
To read more amazing articles like this you can explore Tennishead magazine here or you can subscribe for free to our email newsletter