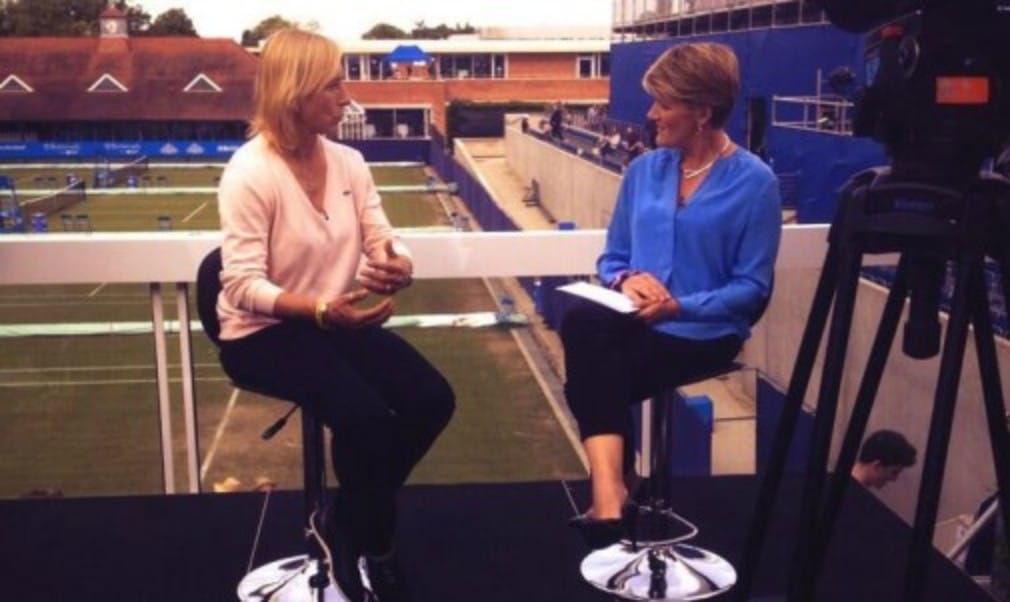 Navratilova: Murray can win Wimbledon with Mauresmo
Originally published on 12/06/14
Murray, who started working with Mauresmo at The Queen's Club this week, may have failed to defend his Aegon Championships title after he lost 7-6(10) 6-2 in the third round to Radek Stepanek, but Navratilova thinks Mauresmo's input could be key in helping the world No.5 at Wimbledon.
"Sometimes he is too passive. I think Andy has a habit of looking as his coach and saying 'you didn't tell me that or how come my forehand is not working', but he wasn't doing that when he started working with [Ivan] Lendl and I don't think he will be doing that to Amelie either," she said. "It's a matter of respect and I think if he has a person there that he respects he won't do that and it will help him mentally on the court while he is playing and also push him forward.
"I think also it's about whether or not he will listen to somebody else and trust somebody else. He has the skills, there is no doubt about that, and a great backhand slice, but to be effective he needs to go to the baseline. If you can push through the baseline the court really opens up and Amelie did that beautifully so she will give him the confidence to do that."
Since winning Wimbledon in 2013, Murray has failed to win another tournament. But he showed signs that he is back to his best at Roland Garros as he reached the semi-finals, and Navratilova believes can he go even further at SW19.
"I think he has got a very good chance," said Navratilova, a nine-time Wimbledon champion . "He played great tennis in Paris. He did get blown off the court by Nadal so it's going to be hard mentally to say 'ok grass is going to be that much better for me', but if anybody can do it then it will be Andy."
Navratilova was one of many ex-players rumoured to be interested in coaching Murray after he split from Czech Ivan Lendl in March. And the 18-time Grand Slam champion has revealed it is a role she would have considered if she was approached.
"I wasn't asked but of course if I had been then I would definitely consider it," she said. "My schedule is pretty busy with my TV work and I do speaking engagements around the world so it would be hard to fit it in as I have a family with two kids, so it would have to be part time."
Murray's decision to appoint Mauresmo as his new coach has generated plenty of discussion this week over the role of women at the top of the men's game. The world No.5, though, said that gender was not a factor he took his account when making his selection and Navratilova agrees.
"The ball doesn't know what gender you are, it doesn't know how old you are and our strategy is the same male or female, so it makes no difference, more power to Andy," she said. "Andy had his mum as his coach and he didn't care he just wanted the best advice possible and he thinks Amelie will give it to him so great.
"We will see how it works. If it doesn't work, then on to the next one. There's plenty of great coaches out there but hopefully it will be a good match."
Martina Navratilova was speaking on The Clare Balding Show, to see the full interview tune in to BT Sport 1 at 8pm on Friday, June 13