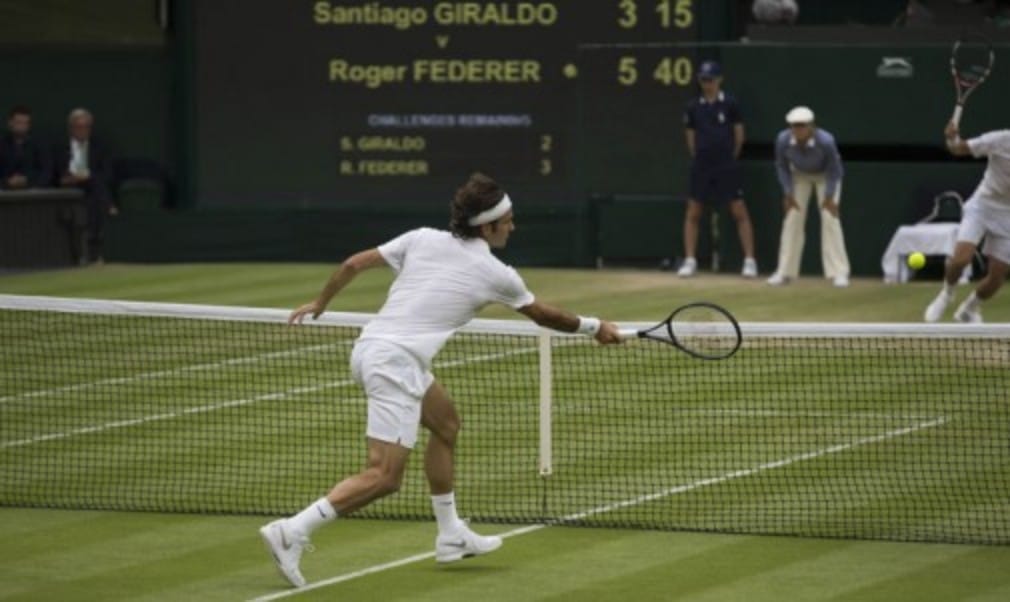 Nadal weathers early storm while Federer sails through
Originally published on 28/06/14
The Spaniard weathered another early storm before coming out on top 6-7(4) 6-1 6-1 6-1 under the Centre Court roof while play was suspended on all other courts due to rain.
"I am playing well, I would be lying if I say anything else," said Nadal. "But the surface is an open opportunity to everybody because the matches can be very close. That's what happens. I lost the first set 7-6, and then I won in straight sets and with a positive score, the feeling was great.
"I played aggressive. I had great movements, some in difficult positions, I was able to come back on the point. Then when I had chances with the forehand, I was able to play aggressive. That's what I did. The first set was very difficult to play aggressive because he was playing so long."
Again it was not a straightforward afternoon for the Spaniard as world No.63 Kukushkin, who had never won a match at Wimbledon prior to this week, reeled off 17 winners to take the opening set. But Kukushkin could not maintain his level and the match started to slip away from him after he was broken early in the second set. Nadal levelled the contest with a superb forehand winner and then reeled off 12 of the last 14 games to book his place in round four, where he will face either Nick Kyrgios or Jiri Vesely.
"Normally I am a good first set player," said world No.1 Nadal. "I think my opponent played great the first set today and I was playing fine, he played fantastic. The only thing that I did not do well in the first set was some returns with the second serve that I make a few mistakes with his second serve.
"In the tie-break I didn't serve well enough, then I gave him the opportunity to attack me with the second serve. He did well and was playing great but the match is long. I have to accept that if he is able to play like this for three sets I will be in trouble, but always knowing that I can improve one step. If I improve one step, I can be there. I think I did."
All eyes were on Nadal under the Centre Court roof as rain disrupted play for most of the day around the All England Club. The wet weather meant matches between Feliciano Lopez and John Isner and Stan Wawrinka and Denis Istomin had to be cancelled while others were moved to different courts.
While Nadal has been tested in his three matches so far, Federer has cruised through and is yet to drop his serve after beating Santiago Giraldo 6-3 6-1 6-3 on Centre Court. The seven-time champion, who was beaten in the second round last year, will next face Tommy Robredo or Jerzy Janowicz.
"I'm happy – it was a good match but I am aware of the tough draws and the grass plays differently in the second week," said Federer. "But I am happy to make it there. I just have to play aggressive and keep serving well."
Milos Raonic has also not dropped his serve yet after his 7-6(2) 7-6(4) 6-2 win over Lukasz Kubot. Meanwhile, Nick Kyrgios won the battle of the wildcards 3-6 6-3 7-5 6-2 against Jiri Vesely to set up fourth-round meeting with Nadal. The 19-year-old is the only teenager in the top 200 in the world and had never made it past the second round of a Slam before this week.