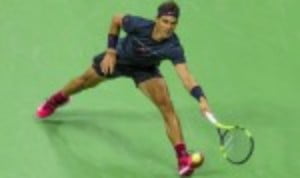 Nadal turns on the style
Originally published on 09/09/17 00:00
The world No.1, into a third major final of the season, showed his adaptability as he roared back from a set down to overcome a dangerous opponent in a highly-charged atmosphere.
It's the 23rd time Nadal has reached a Grand Slam final and he will attempt to add to his major haul against Kevin Anderson on Sunday.
"It means a lot," said the former champion. "It's been an amazing season after a couple of years with some troubles with injuries and a lot of tough moments. This year since the beginning has been very emotional so I'm very happy.
"I changed a couple of things [after the first set]. I was not playing bad in the first set but I was playing too much against his backhand. I felt he was waiting for me there and then had an opportunity to cover his backhand with his forehand.
'In the beginning of the second, I knew something had to change and the only thing to do was to move my opponent more and be a little more unpredictable."
There are few better sights than del Potro in full flight. The 2009 winner made his intentions clear in the early stages as his sledgehammer of a forehand inflicted significant damage. Nadal was forced to absorb significant punishment but he willing scuttled behind the baseline and grafted like only he can.
The Argentine achieved the first break of the match in fortuitous fashion. A backhand return, directed crosscourt, caught the top of the net and trickled over to give the underdog a 3-2 advantage, which he protected until the number six was beside his name.
Nadal had been under the cosh in the opener but he altered his approach in the second set. The 31-year-old adopted a more advanced court position while returning second serves and he remained aggressive when the rallies commenced.
The Spaniard's forehand began to grow in importance and winners were regularly unleashed from his strings. Nadal was buoyant in the second set, but his weary opponent looked a spent force.
It had been arduous route through to the last four for the Argentine and he looked to have nothing left from the second set onwards. After the thrill of the first set, he won just five more games as his meandered around the court resigned to his fate.