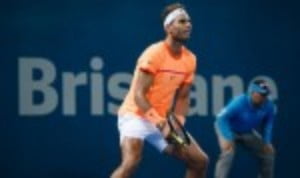 Nadal to miss Brisbane International
Originally published on 28/12/17 00:00
The Spaniard is not yet ready to compete after a stop-start pre-season, however he has allayed fears by stating his intention to return in time for the first Grand Slam of the year in Melbourne.
The world No.1 was forced to withdraw from the ATP Finals in November with the same knee problem after a loss to David Goffin. He was due to play in an exhibition event at the Mubadala World Tennis Championships prior to Brisbane, but will not be making the trip to Abu Dhabi.
In a brief statement, the 31 year-old said on his official Twitter account: "I am sorry to announce I won't be coming to Brisbane this year. My intention was to play but I am still not ready after last year's long season and the late start of my preparation.
"I had a great time there [in Brisbane last year] and it was a great start to the month I spent in Australia. I will be seeing my Aussie fans when I land on the 4th [January] in Melbourne and start there my preparation for the Australian Open."
Despite Nadal's withdrawal, a strong field is once again expected to congregate in Queensland. Grigor Dimitrov will return to defend his title and Milos Raonic and Nick Kyrgios will also be involved.
Andy Murray is scheduled to make his return in Brisbane after a lengthy lay-off, however it's not yet clear if he we will head Down Under. He is currently in Abu Dhabi practicing – perhaps in an effort to gauge his fitness – before deciding his next move.
Kei Nishikori was also expected in Queensland, but he has delayed his return for another week. His first tournament back after wrist trouble will now be the Sydney International.