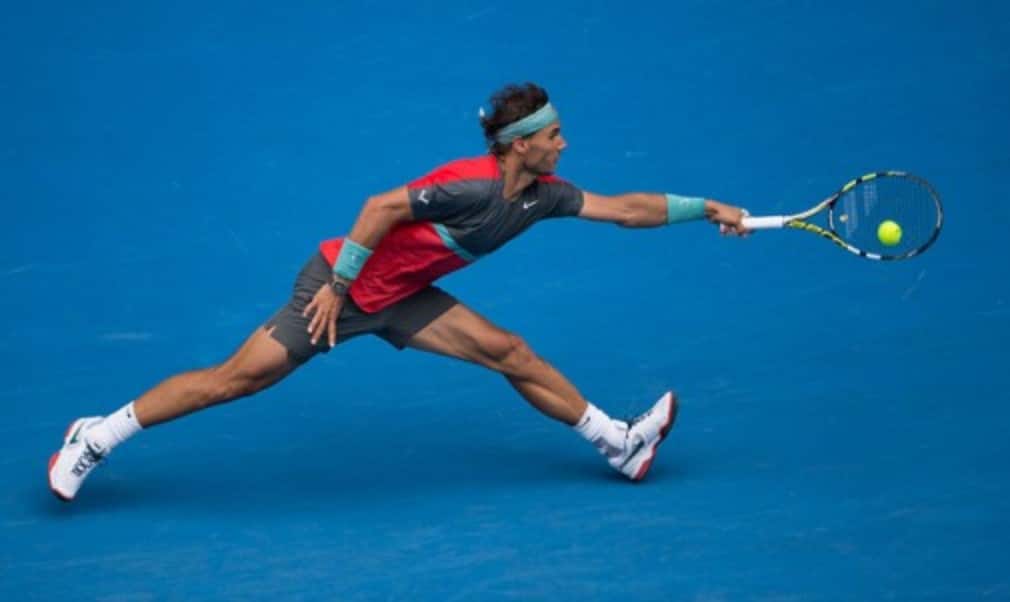 Nadal takes his time to see off Nishikori
Originally published on 20/01/14
Nishikori may have failed to have taken a set, but he made Nadal work for the 7-6(3) 7-5 7-6(3) victory as the pair battled it out for three hours and 17 minutes on Rod Laver Arena.
The world No.1 had not dropped his serve in his three opening matches, but was broken on four occasions as Nishikori pressed hard, using his drop shot to good effect, but Nadal kept his cool to see off the No.16 seed.
Nadal fumed at chair umpire Eva Asderaki after being called twice for time violations on serve – he was particularly unhappy at the timing of the second – at 4-4, deuce in the third set, he forfeited his first serve and went on to lose the game as Nishikori broke to serve for the set, although Nadal recovered to clinch a straight-sets, if not straightforward, victory.
"I don't want to change [any] rule," Nadal said. "I accept that sometimes I was slow. I respect that. The negative thing in my opinion is not the warning. The negative thing is the moment, 4-4, deuce. You can choose another moment to do it, not that one."
"We need referees who understand the game," he added. "The rules cannot go against the good show. If you are playing with 40 degrees, you cannot expect to have 20 or 25 seconds' recovery. If you are playing crazy rallies, you cannot have 25 seconds [to] recover because then you will not have more rallies because the players cannot have it. So that goes against the fans, against the show.
"But I repeat: [I have] nothing against the rules. I accept the rules. Sometimes I am wrong. Sometimes I am too slow and I accept that. I respect the decision of the referee even if I am not happy for that. I will try to go quicker in the future. But it is important to have people on the chair that really understand the game and people who manage this sport who understand the game."
Next up for Nadal is No.22 seed Grigor Dimitrov, who became the first Bulgarian man to reach the quarter-finals of a Grand Slam with a 6-3 3-6 6-2 6-4 victory over Roberto Bautista Agut.
"We all know that he has won tons of Slams," Dimitrov said of his next opponent. "He's been a tremendous competitor. He's Rafa. But I just want to put muself in a position to play those guys. [We've] played a couple of times on clay, there were always little things missing. But I'm quite happy with the way I'm performing so far. So I like my chances."
Also in the top half of the draw, Andy Murray moved into the quarter-finals as he recovered from a third-set wobble to defeat lucky loser Stephane Robert 6-1 6-2 6-7(6) 6-2.
Murray smashed his racket in frustration after squandering four match points in the third set that saw Robert win the tiebreak as Murray dropped his first set of the tournament. However, the result never looked in doubt as the Scot roared back to secure victory and a quarter-final clash against Roger Federer.
"I dominated 95% of the match, and for 15 minutes didn't close the match out," Murray said. "I was one point away from [winning in straight sets] after a great performance to playing 15 minutes not perfect.
"I put a lot of hard work into the third set. I maybe lost concentration when I served for it. Losing that set was frustrating because it obviously means you're out there another 30, 40 minutes at least, when I would preferably had been in the locker room. My racket bit the dust.
"It's not something as a player you're particularly proud of. But sometimes you just need to get some frustration out."
Murray beat Federer in the semi-final last year in Melbourne, but the four-time champion was in ominous form as he swept past Tsonga 6-3 7-5 6-4.
"I know I'm going definitely in the right direction," Federer said. "I couldn't have worked harder in the off-season. This is the type of win I needed."