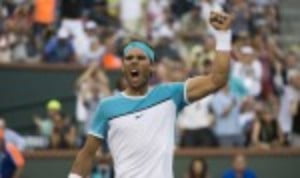 Nadal scrapes past Zverev
Originally published on 17/03/16 00:00
The world No.5 was seconds from defeat as Zverev closed in on the net on match point, but a missed volley from the 18-year-old saw Nadal live to fight on, and he went on to win the match 6-7(8) 6-0 7-5 and set up a quarter-final clash with Kei Nishikori.
"A great victory… I'm very happy about it," Nadal said. "I am especially happy about the mentality on court, the spirit of fight during the whole match, believing that I can win a match during the whole time even in the tougher situations."
Serving at 5-3 40-30 in the final set, Zverev was one point away from becoming the youngest man to reach the quarter-finals in Indian Wells since Andre Agassi in 1989. But a miscued forehand volley saw his chance of scoring the biggest win of his career fizzle away.
"I missed probably the easiest shot I had the whole match," said Zverev. "It was a great match. Rafa did what he does best; he was fighting. He's known for that. I still had chances to win. I had an easy shot at match point and I missed it. I'm out and he's in the quarter-finals."