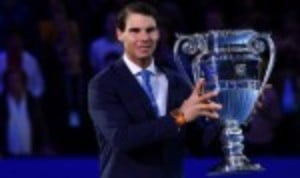 Nadal pulls out of Tour Finals
Originally published on 13/11/17 00:00
After wincing in pain throughout his loss to David Goffin at the World Tour Finals in London, the world No.1 has decided to pull out the tournament with a right knee complaint.
The Spaniard was an injury doubt prior to the start of the season-finale, and it quickly became apparent in his clash with the Belgian that he was still struggling physically.
"My season is finished," said Nadal shortly after his defeat. "Yeah, I had the commitment with the event, with the city, with myself but I tried hard. I did the thing that I had to do to try to be ready to play.
"But am I really ready to play? No. I really fought a lot during the match, but I knew there was a big chance that this would be the last match of the season – and that's how it is going to be.
"It's all about the pain. I cannot hold enough power to keep playing. I tried, but seriously it was a miracle to be very close in the scoring (with Goffin)."
Nadal downplayed fears regarding whether his latest injury would impact the start of his 2018 campaign. "I know what I have to do," admitted the Spaniard when asked what kind of treatment he requires.
"I know all the things that happened in the past when I had these things, and I know the treatment that I have to do. I know the periods of time that I need to work. Then if the treatment works or not, we will see.
"The good thing is that's it's nothing new. Everyone of my team, we have the right experience on this thing. We hope to manage it well, to have the right rest, the right work, and try to be ready for the beginning of the next season.
"This is not a decision I took five minutes ago. Is a decision that I took during the match. Even winning, even losing, I was always going to pull out because I was not enjoying it on court at all. It was not fun to play like this.
"I really believed that I don't deserve after this great season to spend two more days on court with this terrible feelings, that's all.
"I am, of course, disappointed, but I am not going to cry. I had a great season. I really appreciate all the things that happened to me during the whole season.
"I am going to work hard to try to give myself more chances next season to keep being at the top and fighting for the most important things."
Pablo Carreno Busta will take Nadal's place in the competition. He will challenge Dominic Thiem in the second round of group matches on Wednesday.