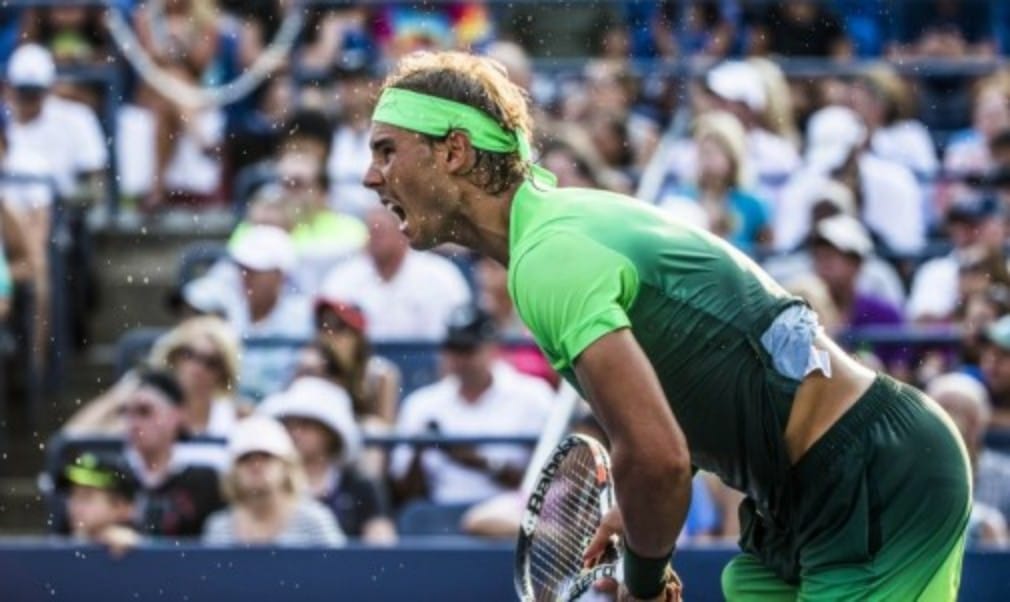 Nadal philosophical after second round win
Originally published on 03/09/15
On the day that Mardy Fish retired – the American tennis player who has done so much to raise awareness of anxiety as a debilitating condition that can be conquered – it might seem a little incongruous to talk about Rafael Nadal in the same sentence.
What links the two is an honesty of speech that cuts through the multi-million dollar sport and reveals the vulnerability of humans who have been blessed with a sporting talent that many might consider out of this world.
Rafael Nadal, a 14-time Grand Slam champion, has wowed tennis fans with his style both on and off the court since he became a professional tennis player in 2001. Since then he has won 67 career titles, which is more than any active player except Roger Federer (who has won 87 titles).
Two years ago the Spaniard was lifting the trophy at Flushing Meadows having beaten Novak Djokovic in four sets. Absent last year due to a right wrist injury, Nadal has won three tour titles this year in Buenos Aires, Stuttgart and Hamburg but in 2015 has not advanced further than the quarter-finals of a major – at the Australian Open and Roland Garros.
So on his previous form and from what his army of fans (he has 8.4 million twitter followers) expect of him, his seeding at No.8 is unprecedented. But is that a cause for concern? Talking after his 7-6(5) 6-3 7-5 of Argentine Diego Schwartzman in the second round of the US Open on Wednesday, Nadal said: "I am No. 8 in the world. I am not No.100".
"It seems like I am No. 200 in every press conference. I am not so bad. I arrive here with the victory, I come back to the locker room saying how bad I am. Every day. It is normal that the fans are worried, because I am worried too. If I am not playing well I am the first one who is worried."
In Miami after losing to Fernando Verdasco in the third round he admitted to suffering form nerves. Is that a sporting gaff?
"In general," he said, "people say, 'Why did you say that? Why are you that honest? You give confident to the opponent.' I believe what happens outside the court what we are talking about has zero effect on the next result. The thing is you play well you have chances to win; you play badly, you are going to lose, the sport is simple."
In the first round Nadal defeated 18-year-old emerging talent Borna Coric in four sets, and on Wednesday it was a straight sets victory over the diminutive Argentine Schwartzman.
"During the season," Nadal said, "I feel that the nerves have gone down. I was not close to losing the match today. I was a break down in some sets but it is important to come back and feel that mentally I am strong enough to play well when I had to play well."
The 29-year-old next faces No.32 seed Fabio Fognini. Although Nadal has a 5-2 lead in head-to-head encounters, the Italian has won two of their matches this year, in Rio de Janeiro and Barcelona. The most recent honours though went to the Spaniard at the ATP World Tour 500 series event in Hamburg in July.
"He's a tough opponent for everybody when he's playing well," Nadal said of Fognini. But with the love that exists from the fans around the world as well as here in New York, the Spaniard knows that on Friday the crowd will most likely be rooting for him.
"For me it is the biggest satisfaction possible to feel the support of the crowd and the people," he said. "Because that means a lot to me."
The honesty that the former world No.1 has shown is not dissimilar to that of Mardy Fish and it is something that will sorely be missed when the Spaniard finally hangs up his Babolat racket. There's not much sign of that yet, but as he remarked today after notching up his 750th career match win: "Don't forget that for everybody [there] is a start and for everybody[there] is an end. We are still here, but tomorrow we are not going to be here."