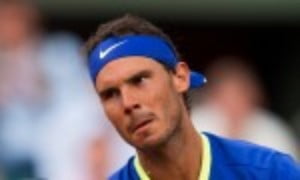 Nadal not keen on shot clock
Originally published on 27/08/17 00:00
In his pre -tournament press conference, Rafael Nadal was asked about the rule changes that were introduced in qualifying here at Flushing Meadows. While clearly not a proponent of the on court shot clock that ensures there is only a 25 second gap between points, he thinks on court coaching is acceptable.
"If the fans want short points and players playing without thinking, the matches, only going for the shots, maybe the clock is good," he said.
"If you want to have matches like I played here with Novak, probably the three finals that I played here with Novak, probably that kind of match that the crowd is more involved because the points are so long, well, you cannot expect play 50 shots' rally and in 25 seconds be ready to play the next tennis point."
Rafa also expressed his reservations about the use of different balls in the run up to the US Open.
"It is a very bad decision to play Toronto, Cincinnati with one kind of ball and play here with a different kind of ball, because there is not even similar ball, you know," he said. "That's very bad for the wrist, for the elbow, for the shoulder."
But the Spaniard who recently regained the No.1 ranking is happy to be in New York.
"It doesn't matter if you are seeded one or seeded 20, "he said, "For me it is always special to play here".
"For the moment I am very happy the way that I played during the whole season. I enjoyed almost every event that I played. I'm here at the US Open, and doesn't matter if I am No.1 or not. Today, only thing that matters is try to work well and try to be ready for the first match and try to play a good US Open".
Rafa faces Serbian Dusan Lajovic in the first round. They have played once before at Roland Garros in 2014 when Nadal won in straight sets.
The Spaniard is in the same half of the draw as Roger Federer. The two have never played in New York, and many fans and pundits are already discussing a possible Rafa v Roger semi final – but Rafa joked he is not that keen. "It sounds very good," he said, "but the real thing, I prefer to play against another player, an easier one if it's possible."
It is four years since Rafa progressed beyond the fourth round at the US Open. Last year he lost in the fourth round to Lucas Pouille in five sets.