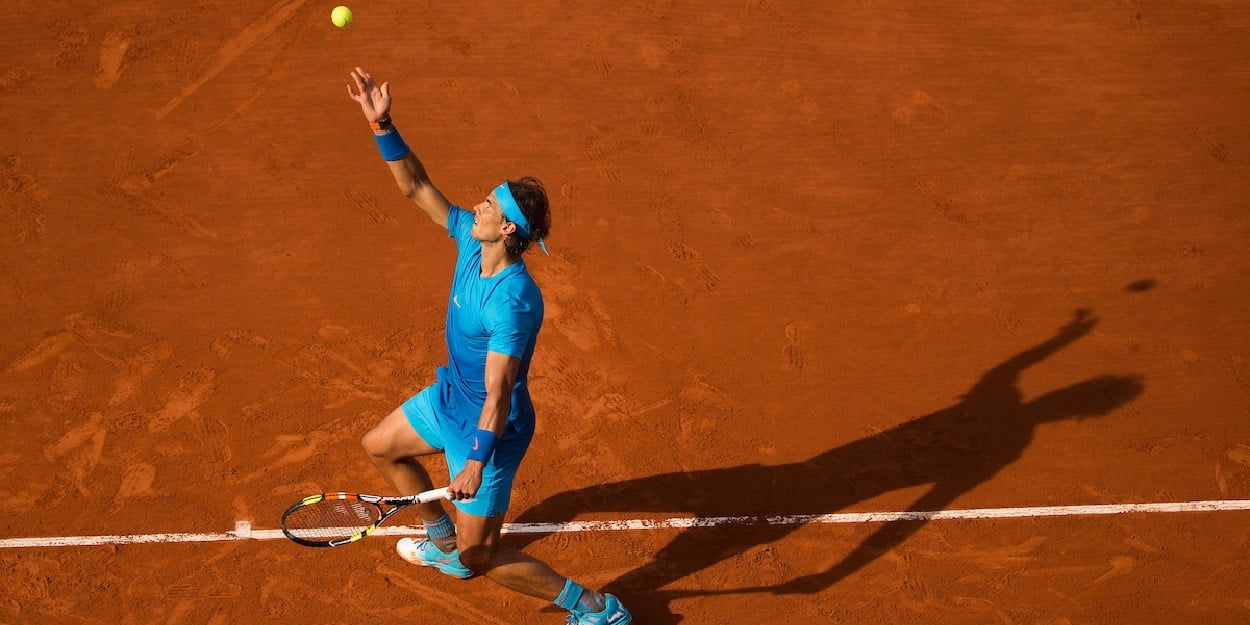 Nadal, Murray and Wozniacki among the day one winners in Madrid
The Madrid Open's pioneering virtual tournament began on Monday with a number of matches taking place between some of the world's top players. Rafael Nadal, Andy Murray and Caroline Wozniacki all won their opening ties on a busy first day of action.
The day began with a hard-fought match between Diego Schwartzman and the Spaniard, David Ferrer, who retired from on-court action at last year's Madrid Open. The rust showed as Schwartzman took the win, 4-3(4). He backed this up with an even more convincing 3-1 win over John Isner later in the day to take the overnight lead in Group 2.
**Sorry to interrupt but we wanted to inform you that the latest 164 page, print issue of tennishead magazine is now FREE for everyone to order (It normally costs $25/£12). There is a small shipping cost but we'll deliver anywhere in the world. Or you can order a copy for yourself and a free copy for a friend.**
The shortened format – first to three games with a two game advantage, or a tie-break at 3-3 – meant the organisers could schedule a large number of matches without any overlap. Not every match was completed, however, as technical issues got in the way, causing cancellations and postponements and playing havoc with the order of play, which listed 24 group stage matches of which only 17 were completed. This gave the commentators and analysts a lot of time to fill and caused some frustration for fans who had been waiting a long time to see their favourite players pick up their controllers.The delayed matches will be completed early on Tuesday off camera.
Whaat? I waited all day for the @ThiemDomi game that you did not show tonight and tomorrow you are not going to broadcast it? That is so unfair to fans who want to watch him and the other players that did not play today.

— Eva Cichon (@evacichon) April 27, 2020
Stefanos Tsitsipas, runner up to Djokovic in last year's Madrid final, impressed by winning both of his matches 3-0, guaranteeing his progression to the next round. Meanwhile, in Group 1, Nadal came through a tight opener against Shapovalov, winning 4-3(3), and later, Murray faced Benoit Paire, a late replacement for his countryman, Monfils, who dropped out the day before "due to conflicting rights between streaming platforms." Paire, perhaps having had little time to prepare, was handily beaten by Murray 3-1.
Day 1 in one video! We need more of this @andy_murray 🙏🏻#PlayAtHome 🎮 | #MMOPEN

— #MMOPEN (@MutuaMadridOpen) April 27, 2020
On the WTA side, Sorana Cirstea was the stand out performer, beating Jo Konta in a mere 3 minutes and then, on the opposite end of the spectrum, coming back from a break down to beat Elina Svitolina 4-2, saving three match points along the way. Afterwards, she said, "the fact that I picked up a PlayStation one week ago, this means a lot." Caroline Wozniacki, who retired after this year's Australian Open, also won two matches, and Belina Bencic provided one of the day's highlights with her masterly entrance routine.
The @mutuamadridopen Virtual Pro PS4 Game "Walk In" into my living room😄 #playathome PS: my match is in 10min 😅 pic.twitter.com/Zm4V4iETqp

— Belinda Bencic (@BelindaBencic) April 27, 2020
The full list of the opening day's results runs as follows:
ATP
Group 1:

Nadal d. Shapovalov 4-3(3); Murray d. Paire 3-1

Group 2: Schwartzman d. Ferrer 4-3(4); Schwartzman d. Isner 3-1

Group 3: Tsitsipas d. Fognini 3-0; Fognini d. Tiafoe 4-3(4);

Tsitsipas d. Nishikori 3-0; Nishikori d. Tiafoe 3-0

Group 4: Goffin d. Pouille 3-1; Zverev d. Pouille 3-1
WTA
Group 1: Bencic d. Suarez 3-1; Ferro d. Pliskova 3-0

Group 2: Cirstea d. Konta 3-0; Cirstea d. Svitolina 4-2

Group 3: Wozniacki d. Mladenovic 4-2; Wozniacki d. Andreescu 3-0

Group 4: Bertens d. Kerber 3-0
Tuesday kicks off with a blockbuster encounter between Nadal and Murray, and should see the completion of the group stage matches. The knockout rounds will then take place on Wednesday and Thursday, with the winners claiming 150,000 euros to put towards helping players outside the top 100 who may be struggling financially with the suspension of the tours.
Here you have tomorrow's order of play! ⏰🎾 #PlayAtHome 🎮 | #MMOPEN pic.twitter.com/jnbt6v7Pua

— #MMOPEN (@MutuaMadridOpen) April 27, 2020