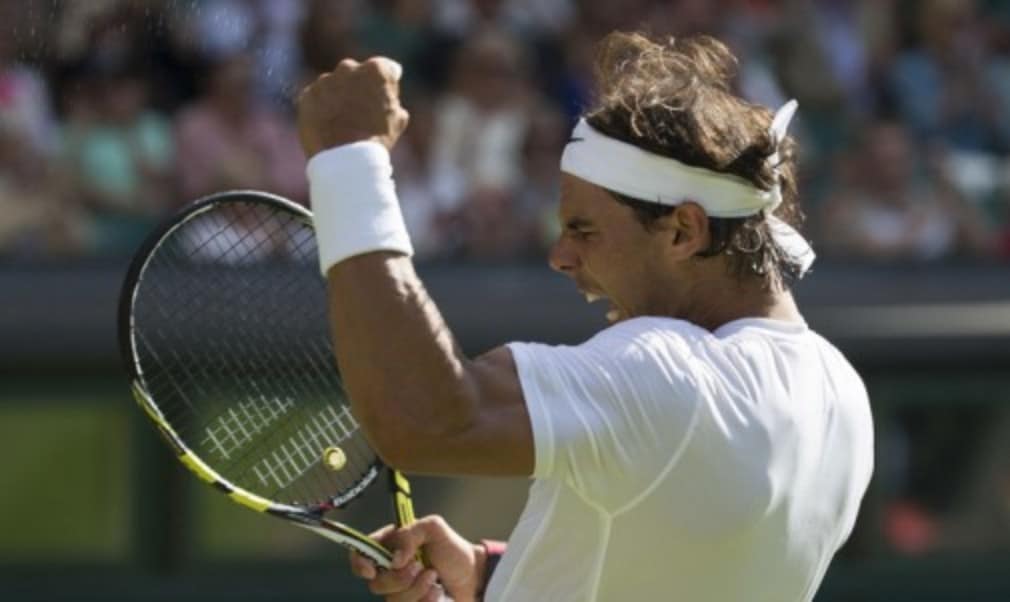 Nadal fights to avoid second Rosol upset
Originally published on 26/06/14
The Czech pulled off the biggest win of his career in 2012 when he shocked Nadal in five sets at SW19. And it looked as though history might repeat itself on Centre Court as Rosol continued where he left off two years ago, outhitting the world No.1 to take the opening set 6-4 and lead 6-5 in the second set tie-breaker. But a determined Nadal was not to be denied again and after saving the set point with a forehand winner he powered through 4-6 7-6(6) 6-4 6-4 to advance to the third round for the first time since 2011.
"The difference maybe is one point," he said. "Maybe if I lose that set point in the second set, if that forehand down the line went out, maybe I would be here with a loss. But that's the sport. That forehand was a perfect forehand for that moment.
"It is true that even if I was losing, I was fighting for every ball. I was fighting mentally, physically. The positive thing is I was able to find solutions through the whole match and at the same time my physical performance was different today than a few years ago. It is a very important victory for me. To be in the third round here again after three years is very positive news and I think I finished the match playing at a very high level."
Even though Nadal was second best in the early stages, his determination to avoid another upset at the hands of the Czech was clear as almost every winner was greeted with a fist pump and a shout of 'vamos'. His celebrations after clinching victory also told a story of their own but Nadal insisted revenge was not on his mind.
"I never play for revenge," said the world No.1. "Every match is a different match, today was another match I tried to win. My goal is not Rosol here, my goal is to try to play well and play as well as possible at the tournament. We already congratulate him for what happened two years ago. Today is another history, another story. I needed to find the solution, finally I did, that's the most important thing."
Nadal will next face Mikhail Kukushkin, who beat Canadian Frank Dancevic 6-3 6-3 6-2, and he says he pleased with the way his game is developing on the grass.
"I am very happy the way I played," he said. "It is a great win for me and it is the best level I played on grass since a long time ago, the last three sets. That's very important news for me. Every victory will mean a lot to me here in Wimbledon. It is always a very dangerous surface and every opponent is tough.
"My draw was difficult from the beginning because they were two players who can hit the ball very strong with good serves. There is a chance you will not be able to get some rhythm from the beginning. Especially in my case that I didn't play many matches for the last three years on grass."