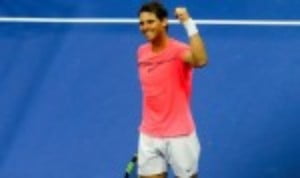 Nadal eases into semi-finals
Originally published on 06/09/17 00:00
It's the 26th time the legendary Spaniard has reached a Grand Slam semi-final and he will take on either Roger Federer or Juan Martin del Potro on Friday.
Rublev, a precocious talent with serious firepower, is capable of unleashing winners from improbable positions but his game lacks subtlety and he was reckless throughout his duel with the world No.1.
The Russian attempted to blast his way through the Spaniard's defence but it did not prove to be a winning strategy. There was the occasional moment of brilliance form the teenager, but more often than not, his one dimensional approach was ruthlessly exposed by the world No.1
Rublev smacked 18 winners but an eye-watering 43 unforced-errors is primarily why he failed to enjoy the biggest match of his youthful career.
Nadal, who has reached the semi-finals without encountering a top 50 player, was quite content to soak up pressure and respond on the counter attack. The 31-year-old achieved a break in the second game of the match and he never relinquished control.
"It was a good match," said the Spaniard after his 89-minute workout. "It was Andrey's first quarter-final and he played with more mistakes than usual.
"For me, it's an important victory and in the last few matches I have been winning in straight sets, which is great news for me. I'm just very, very happy to be in the semi-finals in New York again and it's something that means a lot to me.
"This year has been an emotional year having played very well in almost every tournament. After some years with injuries and sometimes not playing that well, you appreciate it a lot more when you come back and play a lot of matches in a row and fight for important titles."