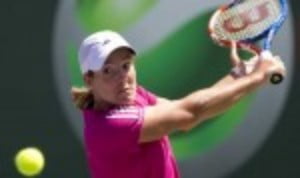 Nadal confirms Queen's return
Originally published on 09/02/16 00:00
The 14-time Grand Slam champion will make his seventh appearance in West London. He lifted the trophy in 2008 before going on to win his first Wimbledon title, and the five times that he reached the final at the All England Club, the Spaniard had played at the "perfect conditions' that The Queen's Club offers.
"I love playing at The Queen's Club and I am very happy that I will be back this year," said Nadal. "I will never forget winning the title in 2008, it was a special moment, and going on to win my first Wimbledon. It is a very important tournament, very well organised and on some of the best grass courts in the world.
"Holding that trophy again would be amazing although I am well aware of the difficulties because the tournament always has so many good players.
"With Wimbledon just one week after, it is also important to be playing at Queen's because it offers the perfect conditions and allows me to be with the British fans who always have given me great support."
"For Rafael Nadal to join our field of players so early is a huge boost to the Aegon Championships," said tournament director Stephen Farrow. "He is one of greatest and most popular players that has ever picked up a tennis racket, and we know that our ticket-holders will be excited at the prospect of seeing him.
"He will join our defending champion Andy Murray at The Queen's Club, and we look forward to welcoming them both in June."
The Aegon Championships – an ATP World Tour 500 event – takes place at The Queen's Club from June 13-19, 2016. Tickets go on general sale from 10:00 on Tuesday, February 23.