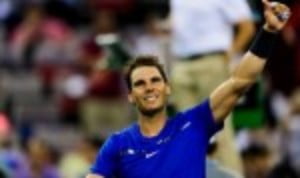 Nadal beats Cilic in thriller
Originally published on 14/10/17 00:00
The world No.1 prevailed in a thrilling clash with Marin Cilic 7-5 7-6(3) to extend his winning running to 16 matches and earn the opportunity to add the Shanghai Masters to his list of achievements.
In defeating the Croatian, Nadal has maintained his perfect record in semi-finals this season – 10 wins in a row – and he is close to securing the year-end No.1 spot for a fourth time.
If Cilic was going to mount a serious challenge, then he had to start well. He endured a torrid opening though, and was forced to play an eye-watering 30 points behind his delivery in his opening two service games.
The 29-year-old somehow managed to successfully negotiate a tricky spell and he was fully engaged in battle. He had survived an early onslaught and soon had the chance to seize control.
With Nadal serving to stay in the set at 4-5, Cilic turned the screw. His eagerness to dominate the baseline exchanges enabled him to carve out two set-point opportunities but his resolute rival denied him.
A third set-point chance came along moments later, but the Croatian was unable to direct his return within the confines of the court.
Cilic had missed a golden opportunity to claim the first set and his disappointment was compounded in the following game. Nadal capitalised on an error-strewn game from his opponent to move 6-5 ahead and he was soon halfway towards victory.
After a high-octane opening gambit, there was an understandable lull in proceedings at the beginning of the second set. It did not take long for Cilic to slip behind though, and his stuttering challenge was fading fast.
The Croatian was running out of time to recover the deficit, however his perseverance eventually paid off as he became the first player to break Nadal's serve this week.
The Spaniard played an unusually loose service game to offer his rival a glimmer of hope – and the score was tied at three apiece. Cilic was back in the contention, but he was unable to stay with his opponent for long.
In the ninth game, Cilic's forehand, his weaker wing, leaked errors at an alarming rate and he was broken for a third time in the match. Nadal had the chance to seal victory behind his own deal however he was denied in dramatic fashion.
Cilic threw caution to the wind and unleashed a flurry of winners to stun the world No.1 and pull level at 5-5. Nadal had faltered with the checkered flag in sight, and he was irritated by his inability to convert a match-point opportunity.
The Croatian had once again shown his resilience and he managed to reach a tiebreak. His quality of play noticeably dropped in the shootout though, and he was unable to prevent Nadal from reaching yet another final.