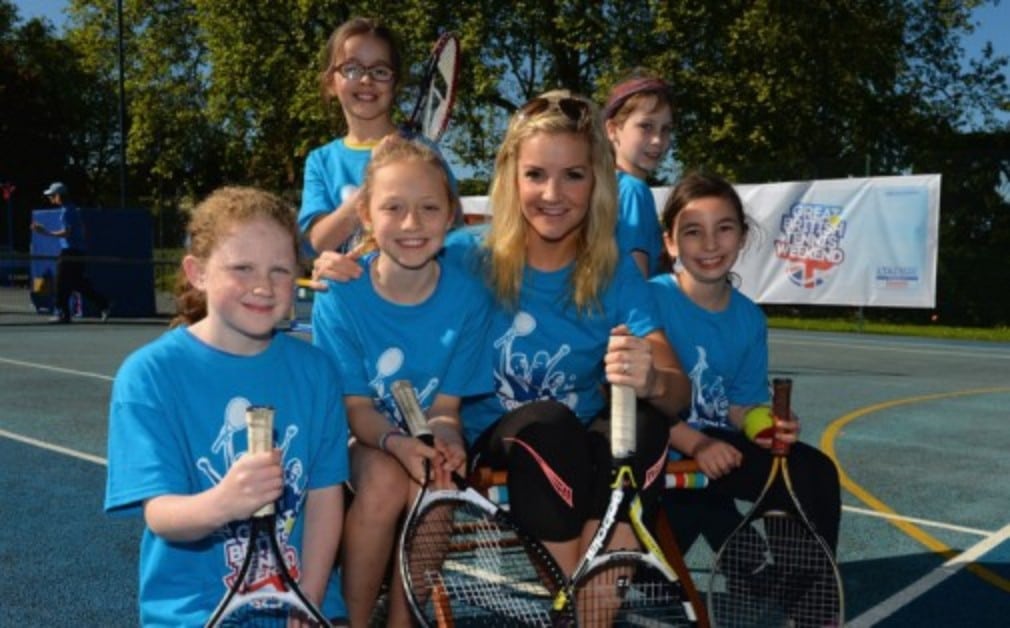 My Wimbledon: Helen Skelton
Originally published on 25/06/14
What are your earliest memories of Wimbledon and do you remember watching it on TV as a kid? For us Wimbledon was always one of those appointment to views. The curtains got drawn in the living room and it was always no one speaks. My mum was always really big on us watching the women's and men's final. It didn't matter what we watched up to then but as kids we had to sit down as a family and watch the women's and men's final. My first memory of visiting Wimbledon, I was about 11. We went with three of my friends and I remember going to see Arantxa Sanchez Vicario and afterwards we bought some tennis balls that we thought had been used on that court by her and we were so excited, I treasured these tennis balls until a couple of years ago when I realised you can just buy any old tennis balls from Wimbledon now. But in my head they were hers!
What were your first memories of watching it on TV? Just watching as a family. Things get replayed don't they. [John] McEnroe shouting, obviously. I remember Martina Navratilova play. I remember Martina Hingis and her getting stabbed, I was watching that when that actually happened and that was awful. I remember being so confused – I kept saying to my mum "Why would you do that, why would you do that?" But what was brilliant about that was it didn't seem to change anything at Wimbledon. There were still people sitting so close. That was one of my earliest memories, but that's not a nice one is it?
What was your earliest impression of Wimbledon? How green it is. Everything is so green. I remember as a kid I had always been taken to loads of athletics events and football events but I was amazed about the number of people at Wimbledon who weren't actually on a court. They were just walking around and sitting on the grass. I was a bit surprised. We watched one or two games on Centre Court but I remember spending most of the time wandering around the outside courts and I just never had that experience before. I just thought you came, watched the tennis and left. I didn't realise there was this whole park for tennis. You don't realise that until you go because as a kid you just see Centre Court and Number One and you think that's it. So we were in awe. We ended up doing a bingo to see how many tennis players we could spot. My first impression was that there was more tennis than I realised.
Did you have a favourite player and do you now? Erm… Steffi Graf. She was strong and a girl and I really liked that. Now, Bethanie Mattek-Sands. She's a character and even though obviously at the All England Club you've got to wear all white, she still somehow manages to mix it up!
What makes Wimbledon so special? I think it's the crowds. I think it's the dedication to being in that queue, because I've camped in that queue a few times. I think the kind of keenness and eagerness and British friendliness of people in that queue, camping together for that shared experience. For me that makes Wimbledon a really special place. You get people form all over the world and I just think Wimbledon is one of those weeks that makes you proud to be British. It's clean, it's crisp, it's polite, it's positive, it's optimistic and I think that makes for a really lovely atmosphere.
tennishead was talking to Helen Skelton, former Blue Peter presenter, at an event to promote the Great British Tennis Weekends, which take place on June 28-29 and July 19-20 across the UK with hundreds of free activities available for all ages. For details, go to www.lta.org.uk/GB-Tennis-Weekend.