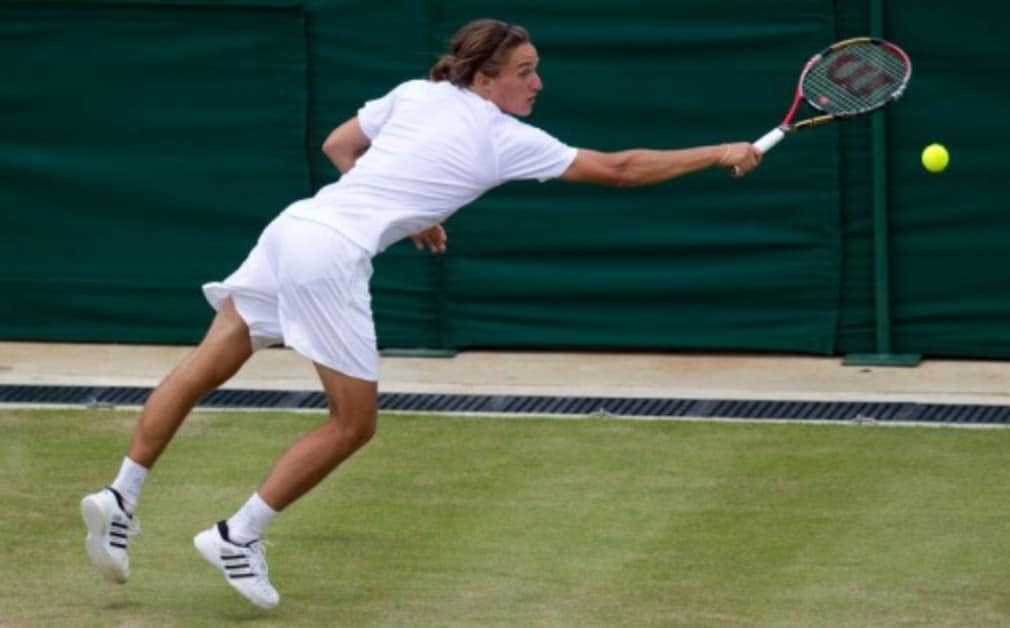 My Wimbledon: Alexandr Dolgopolov
Originally published on 23/06/14
I have watched tennis since I was four or five years old – my father was coaching [Andriy] Medvedev around the circuit so I don't remember that first emotion. I don't remember how I started playing tennis, the first memories are from when I started competition when I was seven or eight. I remember my first visit to Wimbledon playing in the juniors. I played at Roehampton a tournament before and then I played junior Wimbledon and I lost to the same guy in both tournaments – I was not happy.
It was tough because I grew up on clay – I had quite big swings and it was not usual for me to change surfaces too much. I was growing, I had a few small injuries and my father didn't put me on any tournaments except clay – maybe a few hard court tournaments. Once or twice a year I changed surface as a child so for me the grass was something new so I needed a few years to understand. My game suits the grass quite well – I like to slice, I can serve quite well, I play flat shots, I play aggressive so everyone told me, 'grass is for you', but I said, 'I cannot play a match what are you talking about?'
The last two years I have felt more and more comfortable on grass, maybe I would like to move better on it, at Queen's I got injured because I didn't move too well, slipping too much, maybe I need to move softer and find ways not to injure myself.
The first time I just went there and played the tournament, it wasn't my first Grand Slam, obviously it was a new emotion but I wouldn't say Wimbledon was my favourite tournament growing up because 90% of my time I played on clay courts so for me it was Paris, I dreamed of winning Roland Garros. I came to the grass, it was green, it was funny playing on it. I wouldn't say it was a special emotion but it was an adventure!
I like the grass at Wimbledon. Some people say the grass at Queen's is better, but I don't agree. The grass at Queen's is maybe bouncier and greener, but at Wimbledon you have more grip and that is important for me. You feel the ground near your legs and you feel more safe. I move quite fast, I start and stop quite aggressively and for me it is quite a challenge to stay injury free. The grass at Wimbledon I would say is a little bit slower, you have more grip, so for me Wimbledon would be my favourite of the grass swing.