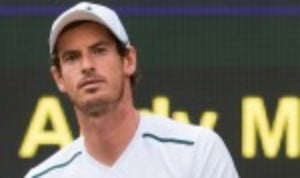 Murray withdraws from US Open
Originally published on 26/08/17 00:00
On Saturday at Flushing Meadows Andy Murray announced that he was withdrawing from the 2017 US Open.
Murray has been suffering from a hip injury since his semifinal match against Stan Wawrinka in Paris. Despite making the quarterfinals at Wimbledon where he lost to Sam Querrey, he has not played competitively since then but has spent the last few weeks monitoring and seeking specialist opinions on the injury.
" I did pretty much everything that I could to get myself ready here and took, you know, a number of weeks off after Wimbledon." he said, "I obviously spoke to a lot of hip specialists. Tried resting, rehabbing, to try and get myself ready here."
"I was actually practicing OK the last few days, but it's too sore for me to win the tournament and ultimately that's what I was here to try and do".
Announcing his withdrawal – this is the first Grand Slam he has missed since Roland Garros in 2013 – Murray also said he would take a view on the rest of the season in the next couple of days.
"I'll need to make the correct decision and really think it through these next couple of days with my team, and then make that decision."
Murray's announcement means that five of the top eleven men's players are now absent from the US Open. Novak Djokovic, Stan Wawrinka, Kei Nishikori and Milos Raonic had already withdrawn.
What happens now to the men's draw?
Under Grand Slam rules, any vacancy created by the withdrawal of a seed prior to the release of the Order of Play for the first day of the Main Draw will be filled as follows: If the withdrawal is among seeds 1 to 4: the 5th seed is moved into the open position; the 5th position shall be filled by the 17th seed; and the 17th position shall be filled by the next-highest ranked player eligible to be seeded. This means that Marin Cilic the No.5 seed now takes Murray's place in the draw as the fourth seed and will play Tennys Sandgren. Sam Querrey moves to Cilic's position and will play Gilles Simon. Philipp Kohlschreiber replaces Querrey and will play Tim Smyczek. Lucky loser Lukas Lacko has now gained entry to the men's singles main draw.