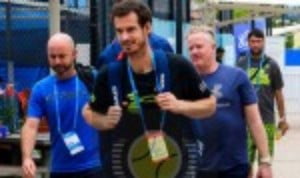 Murray to review schedule
Originally published on 31/12/17 00:00
Andy Murray practiced with Federico Delbonis at the Queensland Tennis Centre in Brisbane on New Years Eve. The practice session on Court 10 was watched by fans and attended by his physio Mark Bender and coach Jamie Delgado.
Speaking after the session, Murray, who has not played a competitive match since Wimbledon 2017 as he has been looking to make good a hip injury, admitted that it is match practice he needs now to see how much of a recovery he has made.
Murray played an exhibition match against Roberto Bautista Agut in Abu Dhabi a couple of days ago and in November 2017 he played against Roger Federer in Glasgow as part of their reciprocal deal which benefited their charities.
"I felt okay today," he said. "Actually, a bit better than I did in the match in Abu Dhabi. I'm hoping that's kind of going to keep getting better with each day I practice with better players.
"You know, that's what I need just now. You know, I've not really done that much over the last few months. So I will hopefully get a few more days good practice in before I play."
Murray who had back surgery in 2013 and spent six months away from the tour knows what it is like to be sidelined, but said that in the past few months of this absence he had missed the game.
"From Wimbledon right the way through to the end of the year, that was the longest period I've ever had off as a professional," he said. "And, yeah, it's tough."
One of the things he said he would change for 2018 is his schedule. With Rafael Nadal, Novak Djokovic and Stan Wawrinka all notable by the their absence through injury at the end of the year, Murray thinks all players should consider their schedules very carefully.
"I'll certainly play less than I have in the past to give my body time to rest and recover, which maybe I haven't done," he admitted.
"I wouldn't say I necessarily played loads of tournaments or overplayed, but just the way the schedule is there's not lots of breaks in the year – so I'll probably change my schedule a bit this year."
Later this week, Murray is due to face either Leonardo Mayer or Ryan Harrison in his first competitive match in Queensland.
"I need to get on the match court now to see — like, you can't just be rehabbing for, like, ten months unless you've had surgery and you've been told it's that long," he added. "If you're not going to have surgery, there comes a point where you need to get back to competing again and see how you are actually doing."