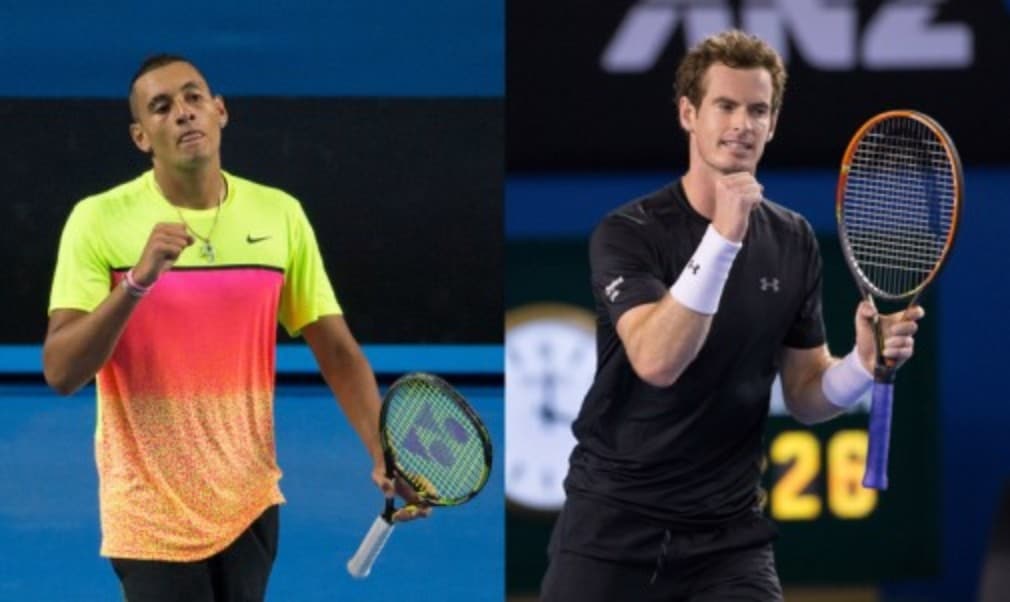 Murray prepared for home favourite Kyrgios
Originally published on 26/01/15
After straight-sets wins against three unseeded opponents, the world No.6 had to step up his game as he defeated Grigor Dimitrov 6-4 6-7(5) 6-3 7-5 in the fourth round and now faces a very different test when he takes on the charismatic, and extremely talented, teenager on Tuesday.
Kyrgios, who came from two sets down to defeat Roger Federer's conqueror Andreas Seppi in a thrilling five-setter on Hisense Arena on Sunday, is yet to play on the main stadium court this year, despite being the highest-ranked Australian man in the draw. That will change on Tuesday, however, when the pair meet in the evening session on the 15,000-capacity stadium at Melbourne Park.
And Murray, a three-time finalist in Melbourne, expects to have to draw on all his experience to deal with the raucous Australian crowd as well as a highly motivated opponent.
"Obviously the crowd will be right behind him, understandably so," said Murray, who has a 10-0 record against Australians. "That's just something that I'll have to deal with in my way. I've played a lot of matches. I've played in French Open against French players where the crowd can be very difficult. I've experienced it before, so hopefully I'll deal with it well."
Murray won their only previous meeting in Toronto last year in the aftermath of Kyrgios' giantkilling run to the Wimbledon quarter-finals. The Scot won that encounter in straight sets, 6-2 6-2, but Murray is expecting a bigger performance from Kyrgios, who is 8-6 in Grand Slam matches despite having won just one match on the ATP tour. Through to his second Grand Slam quarter-final, Kyrgios clearly relishes playing on the big stage.
"It was a fairly empty stadium when we played in Toronto. I think Nick enjoys playing in front of a crowd," said Murray. "I've learnt stuff from playing against him there and at the IPTL and watching him a bit, stuff that I feel I can use and exploit in his game. I enjoy watching him play. I think he's entertaining."
Kyrgios, who has spent 11 hours on the court (an hour-and-a-half more than Murray) admitted he was feeling the nerves before his fourth-round match against Seppi. Bernard Tomic's straight sets defeat to Tomas Berdych leaves Kyrgios last Australian standing – in both the men's and women's singles.
"I was definitely nervous out there before I went out for the match," said Kyrgios. "This was actually the most nervous I've ever been, going out against Seppi in the fourth round. I am definitely feeling the pressure, but at the same time I had so much fun out there."
Murray, who made his Wimbledon debut in 2005 aged 18, can relate to the level of media exposure that Kyrgios is experiencing at his home Slam but says Kyrgios is dealing with the weight of expectation.
"I would say he's more confident than I would have been at that age," said Murray. "I didn't feel like I was going to win these events when I was that age, but I read that he felt like he could win the Australian Open this year a few weeks ago. So he obviously backs himself a lot.
"When you have the crowd behind you it obviously helps. It makes a difference, especially if you're tired and a bit fatigued, the crowd can give you that extra lift. He's obviously handled everything very well so far."