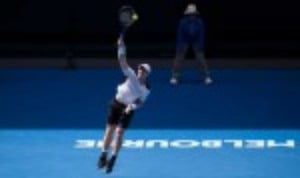 Murray motors into third round in Melbourne
Originally published on 21/01/16 00:00
Perhaps surprisingly it was Australian Groth's first time on Rod Laver Arena, and the 28-year-old appeared to be overawed by the occasion as he failed to hold serve in the opening set.
"Playing on centre court at home, against the No.2 player, knowing I had to play well, I probably put a bit too much pressure on myself knowing how well I had to play," said Groth.
"I felt alright going out there until I started hitting a lot, and then I was pretty nervous. My serve was sort of out. If I don't serve well against [Murray] – a guy I know I have to have probably one of my best serving days against – you know I'm in a bit of trouble."
Groth, who in 2012 hit the fastest recorded serve in history at 263 kph (163.4 mph), won just 44% on his first serve in the opening set, while Murray dropped a single point on his serve as he dished out a first-set bagel in 29 minutes.
It was a commanding performance from Murray, who was impressive on both his serve and on return – breaking Groth seven times and winning 82% of points on his first serve. He also served more aces that Groth – 10 to six – and needed just an hour and 31 minutes to wrap up victory.
"I tend to enjoy playing against that game style," said Murray, who has a 16-0 record against Australian opponents in ATP matches. "I don't know why that is. Always since I was a kid, I liked that. So I had a feeling today that maybe the match-up would be a good one for me. But the same time, if the guy is serving 220 kilometers an hour and making a lot of them, it's difficult to break.
"I returned well. He didn't start the match serving off that well, which helped. Because I was returning well, that maybe put some more pressure on him.
"He didn't really start serving well or how well he can serve until maybe, you know, middle of the second set. But I returned well and passed and lobbed well. That's what I needed to do to get the win. It's been a very good start, for sure. But I can still get better."
Murray had never faced Groth on a singles court, but his Davis Cup doubles match against Groth and Lleyton Hewitt during Great Britain's semi-final in Glasgow gave him some idea of what to expect.
"I think it helps to see someone's game," he said. "I've never hit with him or played against him at all, apart from that match in the Davis Cup. I was only returning from one side of the court against him.
"But it definitely helps to be on the court against him. You see what he's like up at the net maybe, which side he volleys better off, which side he returns better off. In doubles, I think you can often get a better idea of that than in singles.
"A lot of guys return pretty well off both sides in singles because there's both sides to hit into, but in doubles you have to be more accurate with the return. You get a good idea of that, too."
Murray will now face Joao Sousa for a third time in four years at the Australian Open. They also met at Roland Garros last year, when Sousa took a set off Murray for the first time in six meetings.
"He's almost the opposite to Groth really," said Murray. "He plays predominantly from the back of the court, very solid from the baseline. He doesn't serve so big, but makes a lot of returns.
"He's a very good mover and a good athlete. He knows how to win matches. He understands the game well and he gets the most out of his game. If I play well I've got a good chance obvsiously. But he's the sort of player that if your level's not quite there he'll make it very tough for you, as he did when I played him at the French Open."