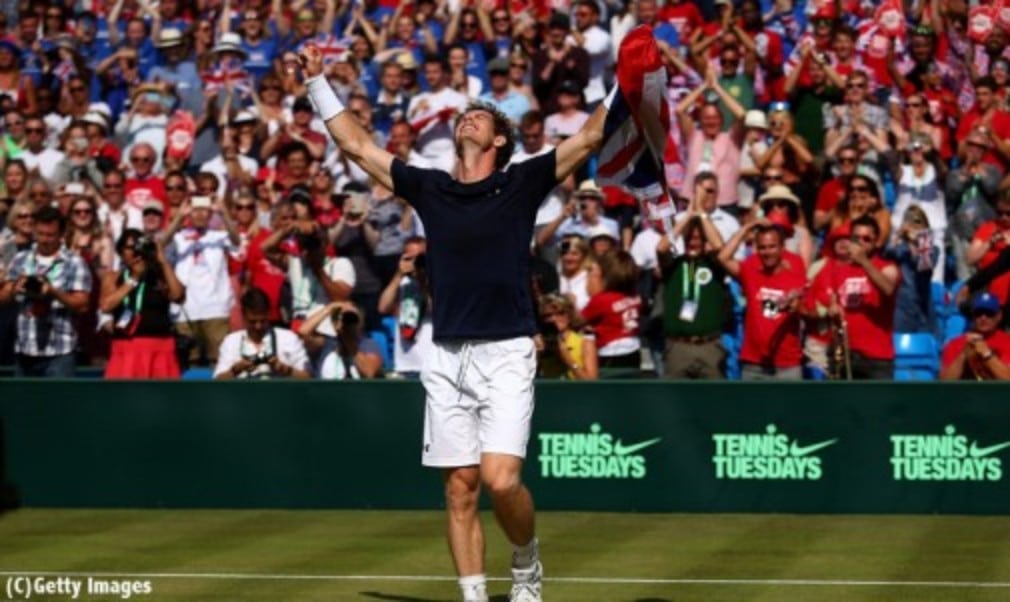 Murray leads GB into Davis Cup semi-finals
Originally published on 20/07/15
Murray came back from a set and a break down to defeat Gilles Simon 4-6 7-6(5) 6-3 6-0 in the fourth rubber at The Queen's Club to seal victory and set up a home tie with Australia in September.
"It obviously feels unbelievable to get through that – it wasn't looking great in the second set," Murray said. "I just managed to find a way and used up all my last ounces of energy."
France took the lead on Friday when Simon defeated James Ward in straight sets, but Murray levelled the scores with a comfortable victory over Jo-Wilfried Tsonga.
In a crucial doubles tie, Murray teamed up with brother Jamie as the pair put Britain in control after three rubbers with a 4-6 6-3 7-6(5) 6-1 victory over Tsonga and Nicolas Mahut.
Playing for a third time in as many days, the world No.3 looked exhausted as he trailed by a set and a break in the fourth rubber against Simon, but dug deep to break back before sealing victory, winning the fourth set to love after three hours and 26 minutes. The Murrays are the first brothers to have single-handedly won a World Group tie since 1998 when Zimbabwe's Byron and Wayne Black beat Australia.
"When you look at history you see how long it's been since we have been there, it gives you an idea of how difficult a thing it is to do," said an emotional Murray. "We also went thought a period where we had Tim [Henman] and Greg [Rusedski] who were two top-ten players and we never won a World Group match, so that shows you how difficult it is to do. To win a couple in a row is fantastic. To go into the match in September with an opportunity there is fantastic. It's a great achievement for everybody."
Captain Leon Smith paid tribute to Murray, who had to pick himself up after the disappointment of his semi-final defeat to Roger Federer at Wimbledon a week earlier.
"It's incredible how he finds a way to dig as deep as he can," said Smith. "It is phenomenal what he finds within himself. I was sitting there thinking this is why he does the hard work, those moments when he digs into his dark places of training and he finds a way to do it because his legs and his heart have been conditioned to do it, and he does it better than anyone. I have nothing but immense respect."
Great Britain will host Australia in the semi-finals in September after Lleyton Hewitt completed a stunning comeback win against Kazakhstan in Darwin. After Mikhail Kukushkin and Aleksandr Nedovyesov gave Kazakhstan a surpise 2-0 lead on Friday with wins against Thanasi Kokkinakis and Nick Kyrgios respectively, Hewitt teamed up with Sam Groth to keep the tie alive with victory in the doubles.
Groth beat Kukushkin in the reverse singles on Sunday before Hewitt completed a thrilling comeback to put Australia in the semi-finals for the first time since 2006.
"I love the backs to the wall situation and we had to rally together to get the win," Hewitt said."You don't get opportunities like this very often. This is what dreams are made of.
"The last three or four years, Davis Cup has been as big as any Grand Slam for me personally. When I make my schedule, everything has worked around the Davis Cup and trying to get the most out of myself."
Great Britain 3-1 France
The Queen's Club, London, Great Britain
Gilles Simon (FRA) d. James Ward (GBR) 6-4 6-4 6-1
Andy Murray (GBR) d. Jo-Wilfried Tsonga 7-5 7-6(10) 6-2
Andy Murray & Jamie Murray (GBR) d. Jo-Wilfried Tsonga & Nicolas Mahut (FRA) 4-6 6-3 7-6(5) 6-1
Andy Murray (GBR) d. Gilles Simon (FRA) 4-6 7-6(5) 6-3 6-0
James Ward (GBR) v Jo-Wilfried Tsonga (FRA) not played
Australia 3-2 Kazakhstan
Marrara Sporting Complex, Darwin, Australia
Mikhail Kukushkin (KAZ) d. Thanasi Kokkinakis (AUS) 6-4 6-3 6-3
Aleksandr Nedovyesov (KAZ) d. Nick Kyrgios (AUS) 7-6(5) 6-7(2) 7-6(5) 6-4
Sam Groth & Lleyton Hewitt (AUS) d. Andrey Golubev & Aleksandr Nedovyesov (KAZ) 6-4 7-6(4) 6-2
Sam Groth (AUS) d. Mikhail Kukushkin (KAZ) 6-3 7-6(6) 4-6 7-6(6)
Lleyton Hewitt (AUS) d. Aleksandr Nedovyesov (KAZ) 7-6(2) 6-2 6-3
Argentina 4-1 Serbia
Tecnopolis, Buenos Aires, Argentina
Leonardo Mayer (ARG) d. Filip Krajinovic (SRB) 6-4 6-2 6-1
Federico Delbonis (ARG) d. Viktor Troicki 2-6 2-6 6-4 6-4 6-2
Carlos Berlocq & Leonardo Mayer (ARG) d. Viktor Troicki & Nenad Zimonjic (SRB) 6-2 6-4 6-1
Dusan Lajovic (SRB) d. Diego Schwartzman (ARG) 6-4 6-1
Carlos Berlocq (ARG) d. Filip Krajinovic (SRB) 6-1 3-0 RET
Belgium 5-0 Canada
Sportpark Krokodiel, Ostend, Belgium
Steve Darcis (BEL) d. Frank Dancevic (CAN) 3-6 6-1 7-5 6-3
David Goffin (BEL) d. Filip Peliwo (CAN) 6-4 6-4 6-2
Ruben Bemelmans & Kimmer Coppejans (BEL) d. Daniel Nestor & Adil Shamasdin (CAN) 7-5 3-6 6-4 6-3
Kimmer Coppejans (BEL) d. Frank Dancevic (CAN) 2-6 6-2 6-3
Steve Darcis (BEL) d. Filip Peliwo (CAN) 6-4 6-3Š—