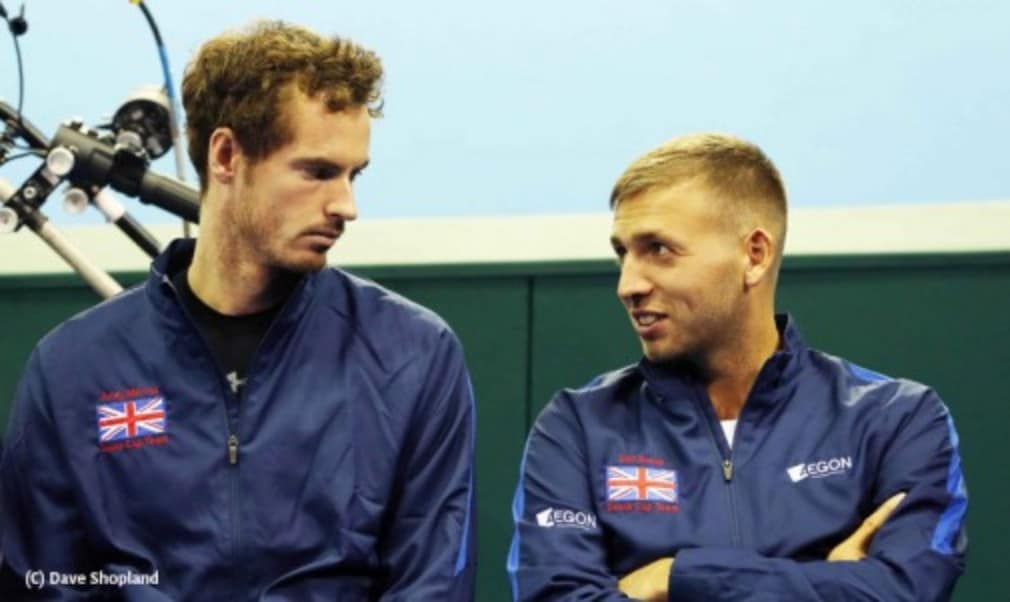 Murray joined by Dan Evans for singles duty
Originally published on 17/09/15
Smith invited Evans to join the British squad in Glasgow only two days ago but has selected the 25-year-old from Birmingham in preference to both James Ward and Kyle Edmund. As the world No.300, Evans is technically the British No.8.
Smith, who was already concerned about Ward's poor recent form, sent for Evans after Edmund suffered an ankle injury in practice at the Emirates Arena. Evans, who took some time off last winter because of a knee problem, had fallen out of the world's top 700 this summer but has had a good run of results of late, albeit at Futures and Challenger level. He has won 29 of his last 33 matches.
"It wasn't an easy decision," Smith admitted. "Dan has played an awful lot of tennis this summer, won a lot of matches, mostly at Futures level, where winning really helps in terms of a lot of confidence.
"Kyle was almost fit, but he still had a fall the other day. I think at this stage it wasn't worth risking anything happening over the weekend, especially when you go in with two singles players and two doubles players. If anything should have happened to Kyle on the Friday, we would have been up against it.
"For James, it came at maybe the wrong time after a summer that has been quite tough, results-wise. But he's played a big, big part in the team to date and I'm sure he'll play a big part in the future as well. I felt that Dan was the one that was in the best place to go through here."
Jamie Murray and Dominic Inglot are Britain's nominated doubles players, but Andy Murray may well be called up to play alongside his brother. Bernard Tomic and Thanasi Kokkinakis will be Australia's singles players, though Wally Masur, the visiting team's captain, could yet draft his nominated doubles pair, Lleyton Hewitt and Sam Groth, into singles action.
Andy Murray will play the opening rubber against Kokkinakis before Evans faces Tomic, whom he beat in the second round of the US Open two summers ago. Evans, who had beaten Kei Nishikori in the previous round at Flushing Meadows, has proved many times in the past that he is a big-occasion player.
He has twice won deciding Davis Cup rubbers for Britain. He beat Slovakia's Martin Klizan in five sets at the Braehead Arena across the city here three years ago and secured Britain's victory from 0-2 down against Russia in Coventry the following year when he beat Evgeny Donskoy in the deciding rubber. Nevertheless, he has not played in a tour-level event since being given a wild card at Wimbledon 15 months ago, when he lost in the first round to Andrey Kuznetsov.
Andy Murray believes Evans will not suffer from nerves and has a game style that could trouble the Australians. "He has a way of playing that will be tricky for Bernard on Friday, but Dan obviously has to play a high level of tennis," Murray said. "That's the reality. We're playing against top players here and if we want to win we're all going to have to play extremely well. But I trust Leon's decision. He's made many hard decisions in the past."
Hewitt was asked whether he felt the greater pressure was on the home team. "Yes, but once you get out there it's a Davis Cup match for everyone and we need to win three out of the five matches," he said. "We feel like we've put our best foot forward and hopefully the boys can get us off to a great start tomorrow. But every match is going to be crucial. This year we've come together in both our ties. It's been a real team effort and this week's going to be no different."
Britain, who are the only country to have competed in every Davis Cup since its inauguration 115 years ago, have won the competition nine times but not since 1936, when Fred Perry and Bunny Austin led the home team to a 3-2 victory over Australia on Centre Court at Wimbledon. Britain last reached the final in 1978, when John McEnroe inspired the United States team to a 4-1 triumph in California. In their last semi-final appearance, on clay in Buenos Aires in 1981, Britain were trounced 5-0 by Argentina.
Australia, meanwhile, are the second most successful nation in Davis Cup history, their tally of 28 title triumphs bettered only by the United States with 32. Australia have played in 48 finals, the most recent of them in 2003, when they beat Spain in Melbourne.
This is the first time Australia have been in the semi-finals since 2006. In the opening round this year they beat the Czech Republic 3-2 in Ostrava and in the quarter-finals they recovered from 0-2 down to beat Kazakhstan 3-2 in Darwin.