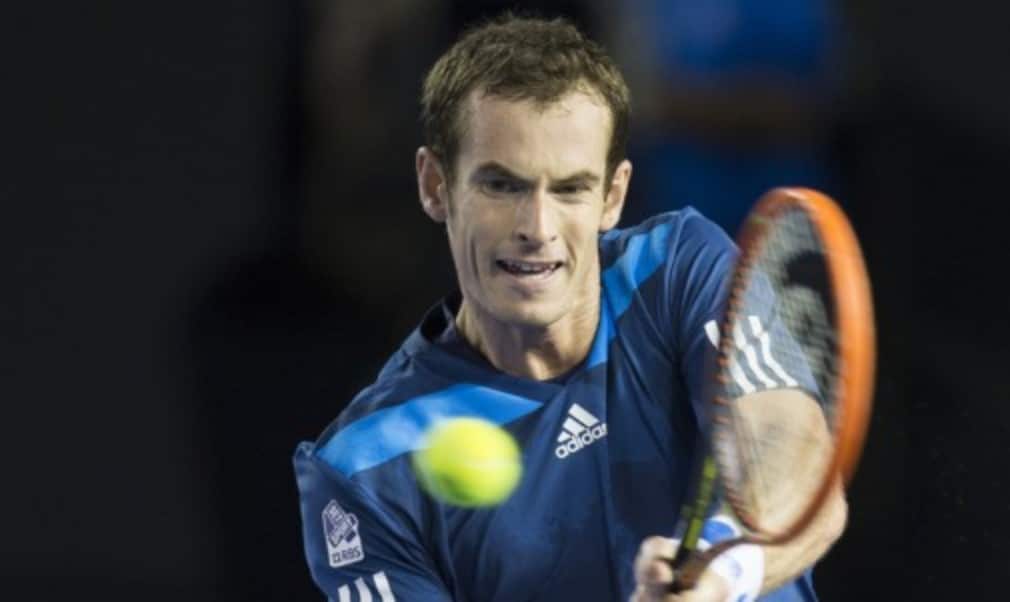 Murray impresses on Rogers Cup return
Originally published on 06/08/14
Andy Murray made an impressive return to action in his first match since Wimbledon with a resounding 6-2 6-2 victory over teenage world No.70 Nick Kyrgios at the Rogers Cup before admitting the prospect of a quarter-final showdown with Novak Djokovic could only be a good thing for his game.
The world No.1 may rue his luck that Murray should have dropped into his quarter of the draw, but the Scot relishes the challenge in a season that promised to be an uphill struggle from the outset.
The two-time Grand Slam champion finds himself in unfamiliar territory right now, as far from the world's top four as he has been since 2008. His status as world No.9 is mitigated by the back surgery that ended his season after the US Open and continued to hamper his progress up until Roland Garros, but it presents complications nonetheless.
In the singles, a potential quarter-final with the Serbian world No.1 beckons should Murray beat Richard Gasquet in the third round. Stan Wawrinka and Grigor Dimitrov, the Scot's conqueror at Wimbledon, are also in a loaded half of the draw in Toronto.
In the doubles – well, Murray isn't playing. In previous years he has used the event to ramp up his time on the American concrete, but having missed out on a bye by right he thought better of accepting Colin Fleming's invitation. Then Rafael Nadal's withdrew from the tournament to lift him among the top eight. Net result: less time on court than Murray would have liked in his first tournament back.
Such scenarios spell out why a place among the world's top four is key among Murray's priorities before the season is through.
"I knew the amount of work and effort [it took] to get there," Murray said. "I was there for the last five or six years It's one thing getting there, but staying there is challenging. With the way that tennis works if you miss periods of the year it's incredibly difficult to maintain your ranking.
"And on top of that, the players get better. The time that you're away from the court everyone is improving, and the younger guys are getting a little bit older, more experienced and better. So it's tough. That's why it's so important to stay healthy."
Not that he saw the need to extend his stay on Centre Court at the Rexall Centre. Kyrgios obliterated a racket after slipping a second break behind in a first set that passed him by in just 24 minutes. The Australian held serve in just 66 seconds at one point but Murray was imperious with his own delivery, dropping just three points in four service games to race ahead.
Murray kept his foot on the gas in the second set, setting up a break at 3-2 with a backhand lob and moving 5-2 clear after honing in on Kyrgios' faltering backhand, finishing the match with an ace in just 54 minutes.
The Australian 19-year-old arrived in Toronto still riding the wave of his Wimbledon win over Nadal, and claimed a well-merited first-round win over Santiago Giraldo, but the 19-year-old was brought back down to earth by Murray.
"I haven't had a match like that in a while where you get beaten on absolutely every level," Kyrgios admitted. "He did everything better than me. There's such a long way to go – I'm nowhere near where I need to be against him."
Murray faces a tough test against Gasquet if he is to face Djokovic, should the Serb beat Jo-Wilfried Tsonga after surviving an entertaining three-set encounter with Gael Monfils in his first match back. There are no guarantees, but Murray views the prospect of facing the world No.1 and Wimbledon champion as a positive.
"Being in the section of the draw with the No.1 player in the world, that hasn't happened the last few years," Murray said. "It's a tough draw, but, you know, it's also good to play against someone like a Novak if you get that opportunity in the build-up to the US Open. You really see where your game is at."