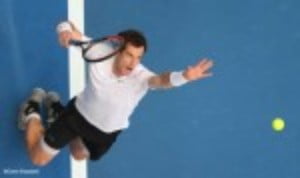 Murray fires up in Perth
Originally published on 04/01/16 00:00
Murray said after his singles match that he had played well. "I was able to dictate a lot of the points and finish a lot of the points up at the net. It's quite a quick surface here, so if you can get the first strike in the rallies it's quite easy to stay on top of the points if you force yourself to and try to come forward. I did that well."
This is the second successive year that the world No.2 has started his season playing in the ITF's official mixed team competition in Western Australia, which gives him three weeks in Australia prior to the Australian Open, which begins in Melbourne on January 18.
"I practised hard and I got used to the warm weather," he said. "I think it's really important for me to get here early and get used to that because it can be brutal. I feel good."
Reunited with coach Amelie Mauresmo, who is courtside with Murray for the first time since giving birth last year, the Scot revealed he had not been playing well in practice.
"I'd been really struggling, I don't know exactly why that is," he admitted. "And you get on a match court and it's different. I never play my best tennis in practice which is good. You want to try to play well in the matches but also it's a chance with the Australian Open in a couple of weeks to work on things to see how the things that you have been practising translate onto the match court. I was happy with that today."
Having chosen to take 10 days off after Britain's historic Davis Cup victory in November and with the imminent birth of his first child, Murray continued to train hard in the off-season. Even after scooping the BBC's Sports Personality of the Year award in December he was back on court the very next day.
"We flew back that night and I was practising at Wimbledon the next day with Gilles Muller," said Murray. "He came over for a few days to train, which was really good for me. Over Christmas I took [December] 24-26 off hitting balls but I still did some training those days.
"February is my off-season really – that's how I planned it after the Davis Cup. Because of the way the year finished for me and with everything coming up I'll take a longer break in February."

Hopman Cup
Group B
Great Britain vs. France
Andy Murray d. Kenny De Schepper 6-2 6-2
Caroline Garcia d. Heather Watson 6-3 5-7 6-3
Murray/Watson d. Garcia/De Schepper6-2 5-7 10-6