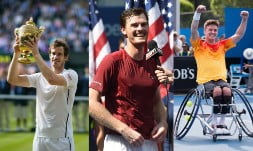 Murray crowned world champion
Originally published on 13/12/16 00:00
Andy Murray, Jamie Murray and Gordon Reid were among 10 players named as World Champions by the International Tennis Federation. It is also the first time that two brothers have been named as men's singles and men's doubles world champions in the same year.
The selection is based on an objective system that considers all the year's results, but places special weight on Grand Slams, the Olympics as well as the Davis Cup and Fed Cup.
Andy Murray sealed the year-end No.1 ranking in his last match of the 2016 season after defeating Novak Djokovic to win the Barclays ATP World Tour Finals. He ended the year on a 23-match winning streak, having picked up nine titles in 2016, including a second Wimbledon title and becoming the first player in history to win two Olympic singles gold medals.
"It means a lot to me to be named ITF World Champion," Murray said. "I have had such a memorable year, winning again at Wimbledon, retaining my Olympic title, and clinching the year-end No. 1 ranking in the last match of the season. It is particularly special with my brother Jamie also becoming world champion."
Jamie Murray and his partner Bruno Soares finished as the No.1 team in their first season together after winning their first two majors at the Australian Open and US Open. Reid meanwhile, won the inaugural men's wheelchair singles title at Wimbledon as well as winning the Australian Open and gold at the Paralympics.
World No.1 Angelique Kerber is the first German world champion since Steffi Graf in 1996. She is one of nine new world champions; only women's wheelchair athlete Jiske Griffioen has been previously crowned world champion.
"I'm truly honoured to be named ITF World Champion and to line up with all these past champions," said Kerber. "This year was by far the best of my career with so many unforgettable experiences and emotions. I am grateful for the recognition and I'm looking forward to the upcoming challenges."
"The list of 2016 ITF World Champions reflects an exciting year of change in our sport, and I would like to thank all the players for their contribution to another memorable tennis season," said ITF President David Haggerty.