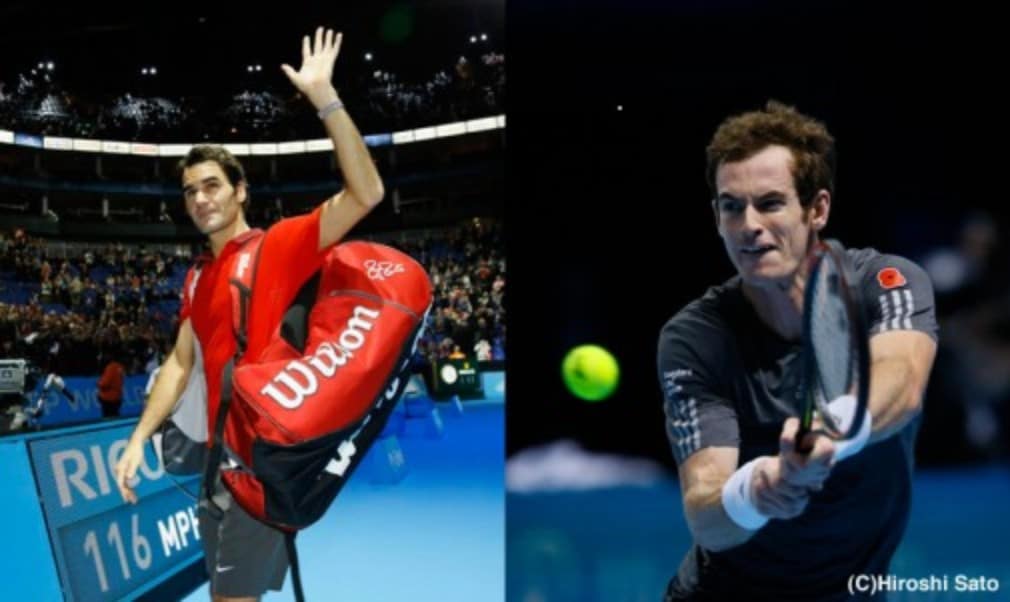 Murray beats Raonic to keep London campaign alive
Originally published on 11/11/14
The Scot bounced back from a lacklustre opening defeat to Kei Nishikori to defeat Raonic 6-3 7-5 to keep his campaign alive ahead of his final Group B match against Federer, who secured his second successive straight-sets win with a 6-3 6-2 victory over Nishikori.
"It's a nice match on Thursday to look forward to, it'll be a great atmosphere again," said Murray. "It's always a pleasure to play against Roger. He's one of the greatest players that's ever played so to get the opportunity to play him in an atmosphere like this is excellent."
Federer needed Raonic to win in straight sets or Murray to win in three to guarantee his place in Saturday's semi-finals ahead of the final round-robin match, but the six-time champion must now wait until Thursday to secure his place in the last four.
"The advantage of being qualified is just that you can go into the match a bit more laid back," said Federer after his win over Nishikori. "But then again the integrity of the game, there's so much still at stake for me, wanting to beat a fellow rival and wanting to win the points that are at stake, go in with a clean sheet into the semis."
Murray won just 26% of points on his second serve in his opening defeat to Nishikori on Sunday, but in the opening stages against big-serving Canadian, it was Raonic who struggled on serve, making just 38% of his first serves as he lost the opening set.
The match appeared to be slipping away from Raonic as Murray broke early in the second set, but the 23-year-old responded immediately to keep himself in the contest at 2-2. However, despite hitting more winners than his opponent (25 to 10), Raonic was left to rue 33 unforced errors as Murray grabbed a late break before serving out the match in an hour and 31 minutes.
Federer meanwhile, sits top of Group B after backing up his opening victory against Raonic with another straight-sets win against Nishikori. US Open runner-up Nishikori had gone into the match in winning form after his opening victory over Murray, but once again struggled with his serve as he hit five double faults and made just 53% of his first serves.
After fending off two break points in the third game, Federer grabbed the only break of the opening set in the very next game as he took control of the match. While the Swiss made just six unforced errors, Nishikori committed 30 as he struggled to keep his backhand in check, making 16 mistakes off his left wing.
However, despite improving his head-to-head record against the Japanese No.1 to three wins from five in just 69 minutes, Federer believes Nishikori is on an upward curve.
"I think he is a more complete and better overall player," Federer said of his opponent. "Today maybe he didn't quite get it going [but] you could see why he had the success he did have this year."