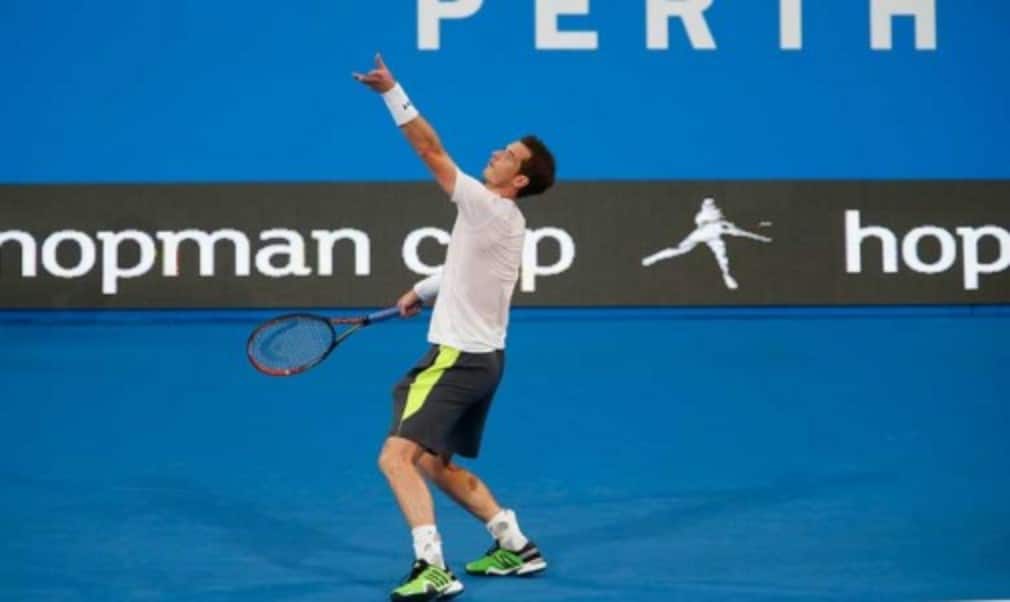 Murray arrives in Perth
Originally published on 05/01/15
Andy Murray flew into Perth from Abu Dhabi on Sunday night and on Monday the Scot practiced in record temperatures, with a high of 44.4 degrees, making it the third hottest January day on record.
Murray defeated Benoit Paire 6-2 7-5 in the Perth Arena where the roof had been opened a little as the evening temperature was beginning to cool. " I think they still had some of the air-conditioning on in there but as you can see I still sweated a lot," he said after the match. "The toughest thing about playing here, (in Australia) your throat gets very dry and the air is extremely dry it is tough to concentrate when it is like that".
Murray wants to practice in the open in order to acclimatise for the Australian Open. He is also hoping that the left shoulder that has been troubling him since Abu Dhabi and was causing him some discomfort here settles down. "I had an ultrasound scan in Abu Dhabi that was pretty clear but it is still quite sore…. Maybe it was playing a match after having a break or just got it in the wrong position and tweaked something a little bit but I should be fine".
Overall the World No. 6 was pleased with his performance. "I don't feel perfect yet but it is going to take a few days to get use to these conditions they are very different but considering I only got in last night it was a good start".
Murray is in Perth with coach Amelie Mauresmo. Judy Murray is also in town, but fiancée Kim Sears is not around. "She is actually at the wedding venue today," he told the Perth crowd after the match. "She is doing a reccie of the venue today with her mum so that is why she is not here, that is a more important thing than watching me play".
The date for the wedding has been set, "I am not going to tell you'" he told spectators. "I will try and keep it as quiet as possible".
Getting him to reveal the date may become quite a feature of his time in Australia. There are a lot of matches ahead, if Murray is to take the title in Melbourne, where he has reached the Australian Open final on 3 occasions (2010, 2011 and 2013).