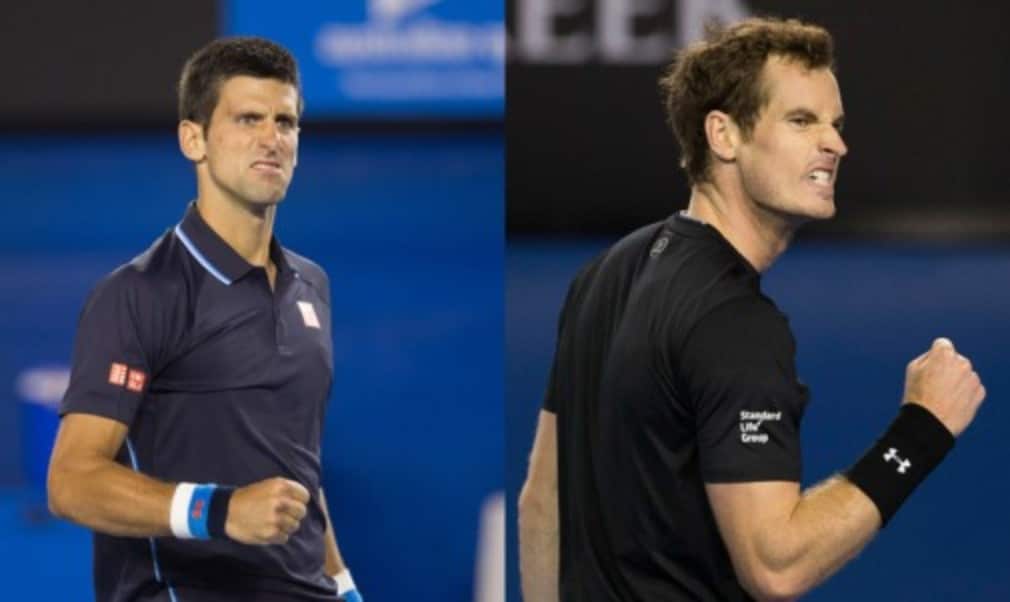 Murray aims to end Djokovic dominance in Melbourne
Originally published on 31/01/15
A finalist here in 2010, 2011 and 2013, Murray comes up against four-time champion Djokovic, who has never lost a final in Melbourne. The Serb has won their last four matches and leads the head-to-head 15-8, but Murray will take heart from knowing he has beaten Djokovic in previous Grand Slam finals – in New York at the 2012 US Open and at Wimbledon in 2013.
Impressive wins over Grigor Dimitrov, Nick Kyrgios and Tomas Berdych have seen the Scot reach his eighth Grand Slam final for the loss of just two sets, while Djokovic had dropped just one service game in his first five matches before being taken to five sets by Stan Wawrinka in the semi-finals.
"I've never won against him here before," said Murray. "I've lost to him each time we've played. I think I've lost to him the last four our five times we played against each other as well. For me it would be a big turnaround in a few months if I was able to win.
"I know if I want to win, it will probably be very, very tough and challenging physically. He has a fantastic record here. He obviously loves the court and the conditions. It would be a big upset if I manage to win."
In what will be only the second time in Australian Open history that the top seed has faced off against the No.6 seed, Djokovic is bidding to win an eight Grand Slam title. He was not at his best as he beat Wawrinka in Friday's semi-finals, and he believes he has only a slight psychological advantage heading into the final.
"He's been playing some great tennis these couple weeks," Djokovic said of Murray. "From my side, it's going to be necessary to perform at my best and play the best match of the tournament if I want to win.
"There's no clear favorite. But the record I have in finals against him here in Australia can serve maybe as a slight mental edge. But not much. I don't think he's going to feel that on the court. I'm sure he's going to be very motivated to win his first title here."
Australian Open 2015 – Key Stats
Murray has hit 66 aces and 12 double faults in his first six matches. Djokovic has hit 53 aces and 14 double faults.
Djokovic has dropped his serve 6 times in six matches (94%). Murray has lost 10 service games (90%).
Murray has won 34 return games (36%). Djokovic has won 26 (27%).
Djokovic has won 81% of points on his first serve. Murray has won 78%.
Murray has hit 230 winners and 172 unforced errors. Djokovic has hit 208 winners and 154 unforced errors.
Djokovic has spent 13hrs 12mins on court. Murray has spent 15hr 4mins.
Djokovic v Murray – The Rivalry
Andy Murray was born on May 15, 1987 in Dunblane, Scotland. He is exactly one week older than Novak Djokovic, who was born on May 22, 1987 in Belgrade, Serbia
Djokovic won their first professional meeting 1-6 7-5 6-3 at the Madrid Masters in 2006. He won the first four matches.
Murray beat Djokovic for the first time in the quarter-finals of the Rogers Cup in Toronto in 2008.
Their first meeting in a Grand Slam did not come until the 2011 Australian Open, when Djokovic won 6-4 6-2 6-3 in the final
Djokovic leads the head-to-head 15-8, and has won their last four meetings. Murray's last win over Djokovic was in the 2013 Wimbledon final
It will be the fifth time the pair have met in a final which puts them in equal third position. Roger Federer and Rafael Nadal have met in eight major finals, Nadal and Djokovic have played seven. Andre Agassi and Pete Sampras, and Ivan Lendl and Mats Wilander have also played five.
Both of Djokovic's Grand Slam final wins have come in Melbourne – he won the 2011 and 2013 Australian Open finals. Murray beat Djokovic in the 2012 US Open final and at Wimbledon 2013.