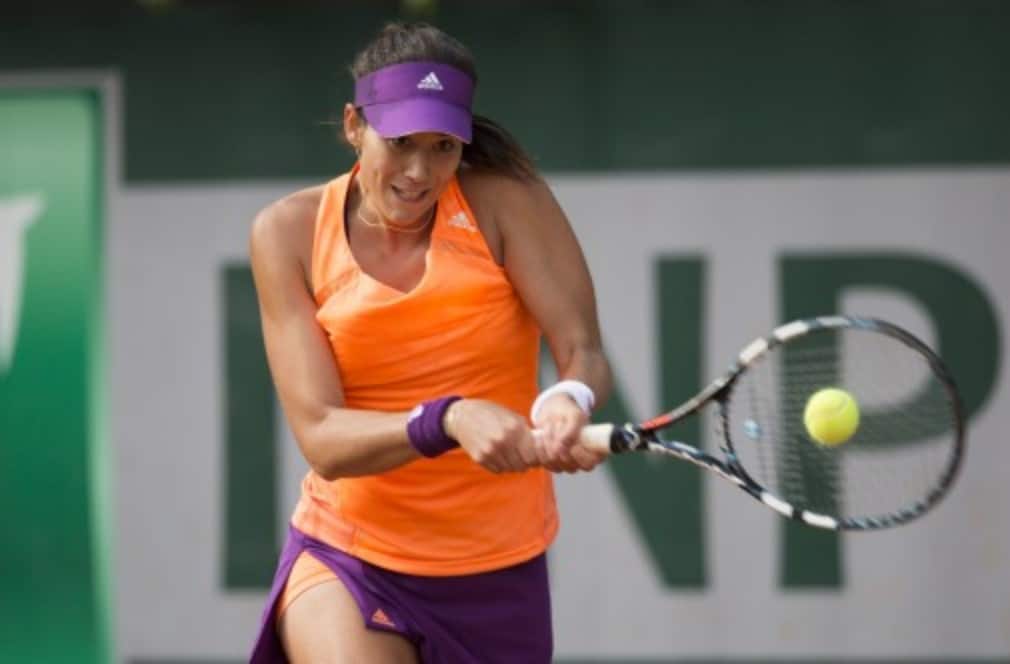 Muguruza starting to fulfil her 'huge potential'
Originally published on 27/05/14
For all of Spain's rich heritage in women's tennis, highlighted by the achievements of Arantxa Sanchez Vicario and Martinez herself, it is many years since a female Spanish player emerged to capture the country's imagination. At the start of this year Carla Suarez Navarro was the only Spanish woman in the world's top 50. At last, however, that may be changing.
In Garbine Muguruza, who was born in Venezuela but competes under a Spanish flag, the country has a player with huge potential. "In Spain we have so many boys," Muguruza said. "The Spanish are not so interested in the girls as we are not running the world like Rafa. We have good girls, but not like the boys."
Muguruza, who has a Venezuelan mother and Spanish father, moved to Barcelona, where she now lives and trains, when she was six. Like many Spanish juniors she played most of her tennis in Spain and did not compete often on the ITF junior circuit. Her rise up the rankings over the last two years has shown what an outstanding talent she is. She rose to No.35 in the world rankings, just 19 places behind Suarez Navarro, after her exploits at the Australian Open, where she beat Caroline Wozniacki before losing in the fourth round to Agnieszka Radwanska. Before heading to Melbourne, Muguruza had claimed the first WTA title of her career in Hobart.
"I cannot believe after all I had been through that I won my second tournament of the year," said Muguruza, who had been sidelined for the second half of 2013 following surgery on her right ankle.Before the operation, Muguruza's talent had been evident when she reached the second round at the Australian Open, French Open and Wimbledon. She also made the fourth round at Indian Wells and Miami. At the start of July, however, she underwent surgery to repair a fracture in her right ankle. Months of rehabilitation followed. Her commitment to returning to fitness can be seen in a YouTube video in which she is hitting balls while sat in a chair.
"I worked hard while I was out injured," she said. "I practised all day. It gave me time to improve." Muguruza has two older brothers, Asier and Igor, who inspired her to play, though both have since given up the game. "I started playing because they were playing," Muguruza said. "I think that helped me because all of my family was into tennis. My mum loves tennis and my father is crazy about it." At 6ft tall and with an athletic frame, Muguruza is built for modern tennis. "My brothers are tall, like basketball players," she said. "My parents are so small. I'm not sure how that happened."
The Australian Open confirmed the view that Muguruza has the potential to beat the best. Her victory over Wozniacki was her second over the former world No 1. "I think my game makes her feel uncomfortable," Muguruza said. "I am also strong in the mind. I never give up fighting." Wozniacki said of her conqueror: "She's a good player. I think we will see a lot of her in the future."
Martina Navratilova is another who thinks Muguruza has a great future. "She's got all the goods," Navratilova said. "She has a great head on her shoulders, she wants it, she's not rushing, and she's developing in her own time. She's got the body for it." The adidas coach Mats Merkel likes the strength he sees in Muguruza. "Her game is big and she hits the ball hard. At the same time she can mix it up pretty easily, something a lot of players out there don't like."
Muguruza has her feet firmly planted on the ground. She says she has not set herself any goals. "I just want to be healthy and take care of my body and play the best I can," she said. Relaxed off court, she regularly tweets about subjects other than tennis. "I love to cook – sweet things like cakes, cupcakes and cookies," she said. "I know it's not good for me."
Conchita Martinez, the 1994 Wimbledon champion, is watching Muguruza's progress closely. The Fed Cup captain would dearly love to have her in her team, while Spanish tennis fans would love to have another woman to take to their hearts. Muguruza may prove to be just that player.
This article appeared in tennishead Volume 5 Issue 1. Subscribe to the magazine today or download tennishead on iTunes.