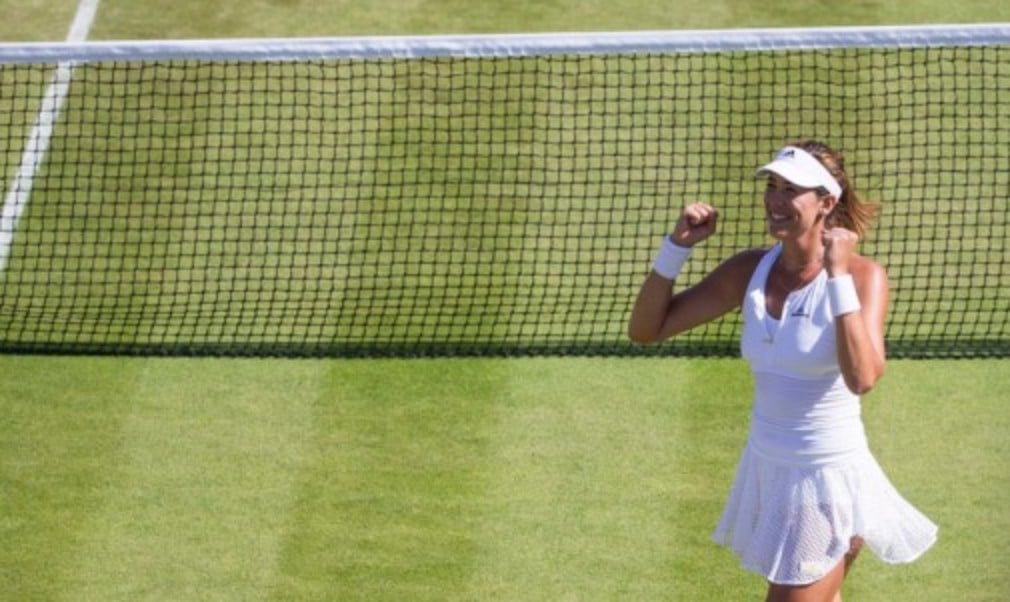 Muguruza reaches first Grand Slam final
Originally published on 09/07/15
Muguruza showed impressive maturity to fend off a second-set fightback from Agnieszka Radwanska to claim a 6-2 3-6 6-3 victory.
She will meet five-time champion Serena Williams in the final after the top seed defeated Maria Sharapova 6-2 6-4. Williams has an impressive 20-4 record in major finals and has not lost a Grand Slam final since 2011 US Open, but Muguruza insists she would not want to face anyone else on the biggest stage.
"If you want to win a Grand Slam, when you dream, you say, 'I want Serena in the final'," said Muguruza. "She's one of the best players in all these years. So it's obviously I think the best challenge to have."
Playing in her first major semi-final, Muguruza showed no sign of being overawed by the occasion, breaking Radwanska in the opening game and dropping just five points on serve as she dominated the first set. She looked to be on course for a straight sets victory when she opened up a 3-1 lead in the second, but Radwanska began to find her way back into the match.
The 2012 Wimbledon finalist won six games in a row to get back on level terms, but another switch in momentum saw Muguruza break in the sixth game of the third set with a backhand winner. The No.20 seed saved two break points when serving for the match, but a swing volley winner (her 39th winner of the match) sealed victory as she became the first Spanish woman to reach a Grand Slam final since Conchita Martinez at the 2000 French Open.
Spanish Fed Cup captain Martinez, who is the only Spanish woman to have won the singles title at Wimbledon, beating Martina Navratilova in the 1994 final, has been offering advice to Muguruza, who will break into the WTA top 10 following her run at the All England Club.
Standing between the Venezuelan-born 21-year-old and an historic victory is 20-time Grand Slam champion Williams, who claimed a 17th consecutive win against Sharapova to reach a 25th Grand Slam final. Sharapova's last win against Williams was more than a decade ago, at the WTA Finals in 2004. While Williams boasts a 18-2 record against Sharapova, her head-to-head record against Muguruza is much closer, with Williams leading by two wins to one.
All three meetings have come at Grand Slam level, with Williams winning both previous encounters on the hard courts at the Australian Open in 2013 and 2015. However, Muguruza claimed a shock 6-2 6-2 win over Williams at last year's French Open and Williams acknowledges that Muguruza's game presents her problems, but believes that defeat was a turning point.
"It's always not easy to play someone that you have to fight for every point, to the very end," she admitted. "It's always something that's not very comfortable to play.
"It was an eyeŠ—•opening loss for me. Some losses you're angry about, and some losses you learn from. That loss I think I learned the most from in a long time. I got so much better after that loss. I was able to improve a lot. I worked on things. I didn't see the results straightaway. But months later I started seeing the results more and more.
"I don't want to lose to anyone at a Grand Slam, but unfortunately, I did. But it was really an experience that helped me say, 'OK, Serena, you want to be the best, you're going to have to do certain things and you're going to have to improve certain things'."