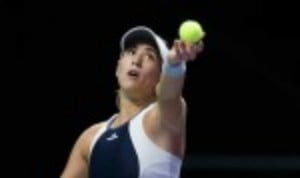 Muguruza: My goal is to be calm
Originally published on 16/01/16 00:00
Although she finished the year winning a WTA title in Beijing and making the final in Wuhan, Muguruza thinks 2016 will be a tough one for her as a result of her success last year. She started 2015 just outside the Top 20 and finished ranked world No.3.
"I think it's going to be a really hard year for me because I have never been in this situation," said Muguruza, who plays 20-year-old Estonian Anett Kontaveit in the first round of the Australian Open. "I am also like, 'How I'm going to deal with these new things. I am very curious about how I'm going to feel myself when I go to the court if I'm going to be able to be there, not to think about so many things. I think my goal is to be calm."
Our Australian Open digital issue is out now. Download it for free on your Apple or Android device.
Speaking in her press conference two days before the Australian Open, where last year she made the fourth round, the 22-year-old was also presented with an award by the International Tennis Writers Association. The award recognises achievements on the court, and conduct that shows tennis in the best possible light and co-operation with the media. The Venezuelan-born Spaniard has been taking English lessons.
"I think it's very important because when you talk to people and they can understand you and you have the vocabulary you need, I think it's better for me and the other person," she said.
This season will also be Muguruza's first Olympic year, where she will play singles. She is not yet sure whether she will play doubles with regular partner Carla Suarez Navarro or there is the prospect of playing in the mixed. The question on everyone's lips is whether she will team up with Rafael Nadal.
"Well, obviously the idea of playing with Rafa, so many people ask me. Yeah, how can I say no? It's ridiculous. Yes for sure," she said, admitting the 14-time Grand Slam champion would be her preferred partner in the mixed.
Muguruza admits that she felt pretty tired at the end of 2015. "Spending time with my family after a great year, that's what I really wanted to do. Nothing else. When you are that tired, you actually don't want to do a lot of things. Just relax," she said.