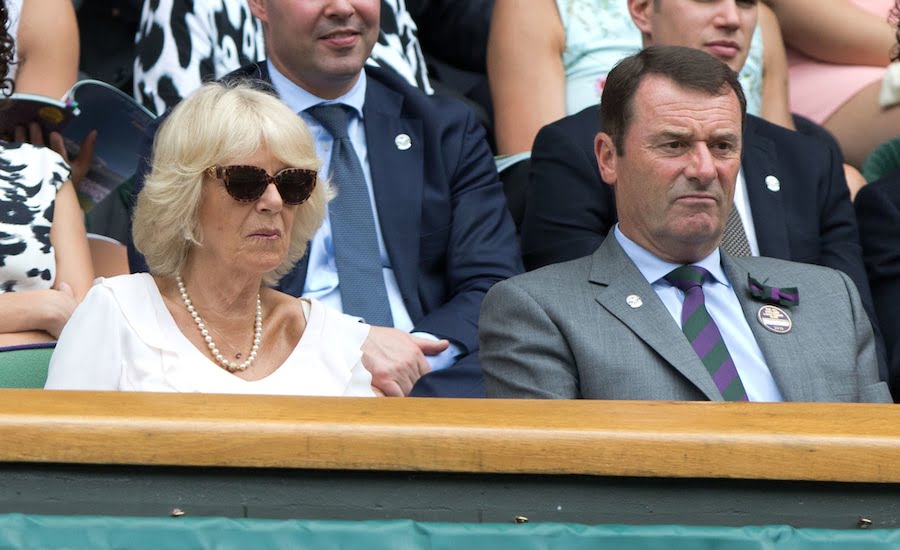 'Mr Wimbledon' Phillip Brook reveals growth plans of the Grand Slam in exclusive interview
Philip Brook will step down in December after nine years as chairman of the All England Club. It has been a time of change for Wimbledon as all four Grand Slam tournaments have been upping their game
Roger Federer and Rafael Nadal, Novak Djokovic and Andy Murray, Serena Williams and Maria Sharapova. To the list of great tennis rivalries of the last decade or more we should perhaps add the ongoing contest between the four mighty pillars of the sport in the shape of the Australian Open, French Open, Wimbledon and US Open.
If this has been a golden age in terms of the quality of play on the court then it has also been a memorable era for the sport's biggest tournaments. The stature of the four Grand Slam events has been growing every year and the upgrading of their facilities has been spectacular.
Last year's US Open saw the opening of the new Louis Armstrong Stadium, which was the latest stage in a $600m redevelopment scheme. Tennis Australia is in the middle of a major programme which has already seen it install a retractable roof over a third court and deliver outstanding facilities for the players. At Roland Garros, which has been transformed in the last two years, a rebuilt Court Philippe Chatrier, which is expected to have a retractable roof by 2020, and an innovative new Court Simonne-Mathieu have been unveiled at this year's tournament.
Which brings us to Wimbledon, where the pace of change has been no less intense. In the last 10 years the four main show courts have all been rebuilt or undergone major transformations. The most recent work has been on No 1 Court, which now has a retractable roof, two additional rows of seats, more comfortable seating throughout and new hospitality suites. Outside, work has been completed on a two-level public plaza where Court 19 used to be, while there will be new "living walls" on either side of the giant screen for spectators on Henman Hill.
Last year's purchase of the lease of Wimbledon Park Golf Club – the All England Club had already bought the freehold in 1993 – will open up many more possibilities for future development. Wimbledon would love to stage the qualifying tournament for The Championships, which is currently held at Roehampton, and although planning restrictions mean there is unlikely to be any major building work on the golf course land, moving some practice courts there could create room for further redevelopment on the main site.
The man who has presided over all this is Philip Brook, whose nine-year tenure as chairman of the All England Club will end when he steps down at the end of this year. There have been plenty of other changes during Brook's reign, the 63-year-old Yorkshireman having also delivered the extra week's gap between the French Open and Wimbledon and brought in-house many services which had previously been outsourced.
The All England Club itself has replaced the BBC as host broadcaster for The Championships, meaning it controls all TV production, while a permanent 25-strong team oversees all building projects, which had previously been outsourced. The Wimbledon shop has also been brought in-house, as has the team responsible for horticulture at The Championships.
Brook welcomes the fact that all four Grand Slam tournaments have been upping their games. "I think it's good," he said. "It spurs each of the Grand Slam tournaments on to do more. The bar has really been raised."
Although Brook stresses that any future redevelopment at Wimbledon will be the responsibility of those who follow him, he is clearly excited by the expansion possibilities after the purchase of the golf club lease, which triples the size of the All England Club's footprint.
"We think we shape up pretty well [in comparison with the other Grand Slam tournaments] in terms of the size of Centre Court and No 1 Court, but there is a question about whether No 2 Court [which has a capacity of 4,000] is really big enough," he said.
"If you look at the Grandstand in New York [the third stadium after Arthur Ashe and Louis Armstrong] it has about 8,000 seats. At the Australian Open, Margaret Court Arena is the third stadium in terms of size and has a capacity of 7,500. The third stadium in Paris now has a capacity of about 5,000.
"I think we will give consideration at some point to having a larger third stadium. That somewhere could be over the road [on the golf course], but it probably couldn't be a permanent stadium because the planning restrictions are significant, though we understand and respect that. But I think having a temporary stadium over there – if that was seen to be the solution – ought to be possible, though in that case you probably wouldn't have a roof on it. Or you might move the practice courts out of Aorangi and create some space there. I don't know. We obviously haven't got that far with our thinking."
Thanks to the addition of the golf course land, Church Road will in future pass through the middle of the All England Club's grounds. When Wimbledon staged the 2012 Olympic tennis tournament the road was closed to through traffic, which could be an option at future Championships. Another possibility would be for the two parts of the site to be connected either under or over the road.
Meanwhile Wimbledon Park station, which is actually closer to the All England Club than Southfields, might eventually become the main arrival point for spectators travelling by tube. Access is not currently possible because the golf course is in the way, but with the All England Club taking over the land it should be possible in future to walk directly into the site from the station.
Ask Brook about the changes of which he is most proud and the first he mentions is the three-week gap between the French Open and Wimbledon. "It was important for the long-term future of our Championships and indeed for the long-term future of grass as a surface," he said. "There's been a bit of a renaissance of grass as a surface for tournament play.
"I would have the No 1 Court project on my list and maybe broaden that a little bit into the Master Plan that we published in 2013. The No 1 Court project was an important part of that. Seeing that project through to its culmination and seeing it done on time and slightly under budget is very satisfying.
"The acquisition of the golf club is potentially a very significant move for us and I would also have the recruitment of Richard Lewis [as chief executive] high on my list. He has proved an outstanding leader. He has built a very strong and capable team. We are now able to do things that we couldn't because we didn't have that strength in depth in the past."
Brook's personal association with the All England Club goes back to his time as a scoreboard operator when he was a student in the 1970s. He became a full member in 1989, joined the committee in 1997 and succeeded Tim Phillips as chairman in 2010. One of Wimbledon's most hands-on chairmen, he insists it has been "a privilege" to have worked with such a good team and to have met so many people from different walks of life, including royalty, heads of state, politicians and athletes from a wide range of sports.
Hosting such distinguished guests in the Royal Box, where there is a strict dress code, has not been without its challenges, as demonstrated by the day when Andre Agassi and Steffi Graf attended in 2012.
"They arrived on time and were both immaculately dressed, but he was not wearing a tie – and of course I had to deal with it," Brook recalled. "He was going to be sitting next to me on the front row, so after exchanging some pleasantries, I had to take him to one side and say: 'Andre, we've got to fix this. This is not going to land well for you and it's not going to land well for us. If you walk into the Royal Box [without a tie] you will be on the front pages of every newspaper for all the wrong reasons.'
"He was wearing a white suit and being a member, a purple and green Club tie worked perfectly well. John Dunningham, who was a committee member, was on duty that day, so he took Andre off to the men's cloakroom. Walking to the cloakroom, Andre said to him: 'John, I need to tell you something. I can't tie a tie. I've never worn a tie in my life.'
"They got to the cloakroom and John tried to teach him how to tie the tie while facing him – and of course that was far too difficult. John ended up standing behind Andre and tieing the tie from behind. They came back and we got him on the court just about on time for the start of play."
From the end of this year the responsibility for such matters will fall to Ian Hewitt, who has been on the All England Club committee since 2002. He has a hard act to follow.
A longer version of this interview appeared in the Official Wimbledon Programme 2019 and on www.wimbledon.com
To read every issue ever published of the world's best tennis magazine, tennishead, visit our 'Magazine Archive' and you can buy a copy of the latest issue here.To win incredible tennis prizes for free, enter our latest 'Competitions'. For all the breaking tennis news and exclusive player interviews, visit our 'News' section. For the latest racket, ball, shoe and clothing buyers guides plus video play tests, visit our 'Gear' section