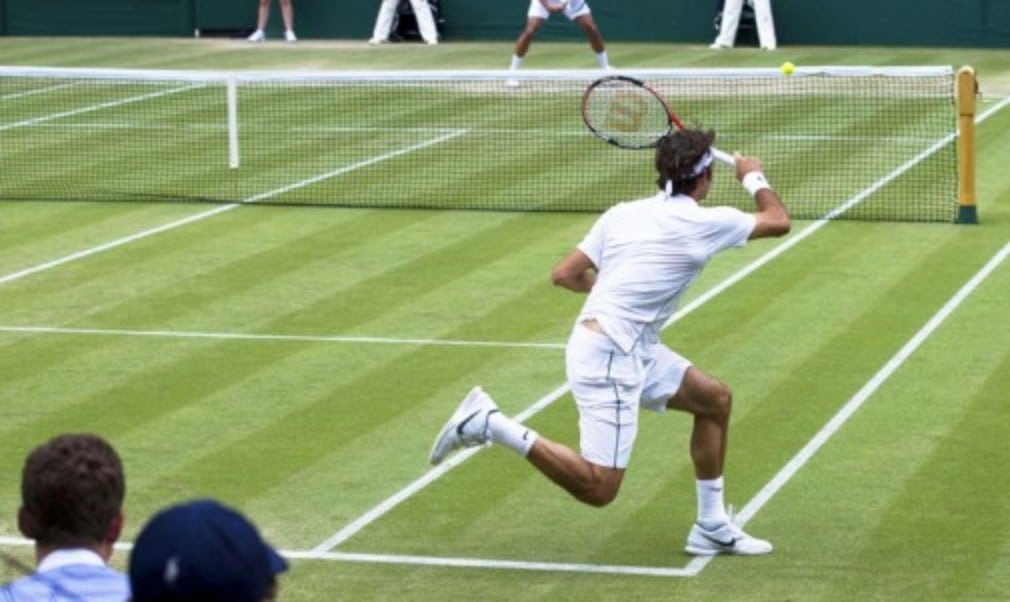 Mouratoglou: The challenges of preparing for Wimbledon
Originally published on 22/06/14
Wimbledon is a special case for two main reasons. Firstly, players are just not used to what is a very different surface because there are only a handful of tournaments played on grass. Secondly, there is so little time to prepare, especially if you go deep into the French Open, which finishes just 15 days before the start of Wimbledon. While it's true that there is more similarity between the surfaces these days, playing on grass remains very different to playing on clay or hard courts.
Grass is what I call a "living" surface, because it changes with the weather conditions and you can get some bad bounces. Clay is also a "living" surface, but in other respects it's at the other end of the scale to grass – which makes playing on grass even more of a challenge given that the season comes immediately after players have just spent two months or more playing exclusively on clay.
I think one of the reasons why Rafa Nadal has struggled on grass in the last two or three years is because he finds it difficult to get as low as he would like. His knees, which remain fragile, start to get painful, because getting down into a low position puts much more pressure on them. When you are on the run on clay you put all your weight on your exterior foot before hitting the ball, enabling you to slide. On grass you have to be much lighter on your feet, almost as if you were stepping on eggs. You have to move carefully and be more fluid. On clay your last step is usually a big stride, at the end of which you are putting all your weight on your exterior leg. On grass you need to make smaller, lighter steps. The ball comes to you much quicker on grass and flat-hitting counter-punchers are good at using the speed of the ball to create their own pace. If you hit the ball flat it gives you a big advantage over players who mostly use topspin. Hitting flat, the ball doesn't bounce high and moves really fast off the surface.
Flat strokes are even more profitable on grass for women, who don't generally move as well as men. Venus Williams is a great example. She has always hit flat strokes with such power that opponents are unable to get into the right position to return them. Maria Sharapova and Marion Bartoli are others whose game has been well suited to grass. People used to say that the most dangerous weapon on grass was a big serve. However, I think the sliced serve can be even more effective because the ball accelerates off the surface and jumps to the right after it hits the ground (when played by a right-hander).
Here's a story to explain that point. I won't reveal the names of the players because I wouldn't want to be giving tips to any rivals! The player I coached was facing a top-five opponent who has a weakness in that she doesn't use her hands on her forehand side very well and needs big preparation when she hits the stroke. I told my player to hit sliced serves to her forehand every time, because I knew she would struggle to return the low-bouncing ball. The strategy worked well in the first set, after which the opponent moved more than a metre across to the right, inviting my player to serve into the big space on her backhand side. I told my player not to change anything – and she went on to win the match as her opponent struggled until the end.
For most players I think it is probably a good thing to play at least one grass-court tournament in the build-up to Wimbledon. I know Roger Federer has won Wimbledon without playing a tournament beforehand, but Roger is Roger. He knows grass and how to play on it so well. His movement is perfect for grass because he is so light on his feet. He also loves using the sliced backhand. Andy Murray uses that shot very effectively as well. Roger and Andy are also comfortable at the net, where the volley can be very productive because it keeps the ball low. Some players prefer to play a warm-up tournament before Wimbledon, but Serena practices at the club instead.
Most players play in a fairly similar way on all surfaces these days. That 's because the surfaces are much more alike than they used to be. Grass courts, for example, are slower than they were. In the men's game the players at the top are nearly all counter- punchers who move really well. They make only small changes according to the surface. In the past many players switched to serve-and-volley on grass, even though it wasn't their natural game. Today you don't see that any more. One of the few exceptions I can think of is Rafa, who won Wimbledon after making a change to his forehand. On clay he used to always have a big loop in his preparation, with the head of the racket going high before coming down. On grass he changed the stroke so that he prepared to hit the ball low immediately. That meant he could be more efficient on those flat and sliced balls that are so dangerous on grass. He was able to return better and, crucially, he was able to handle Roger's sliced backhand more effectively. After he won Wimbledon, he decided to return to his former action as the changed stroke was less effective on clay and hard courts.
This article appeared in tennishead Volume 5 Issue 3. Subscribe to the magazine today or download tennishead on iTunes.