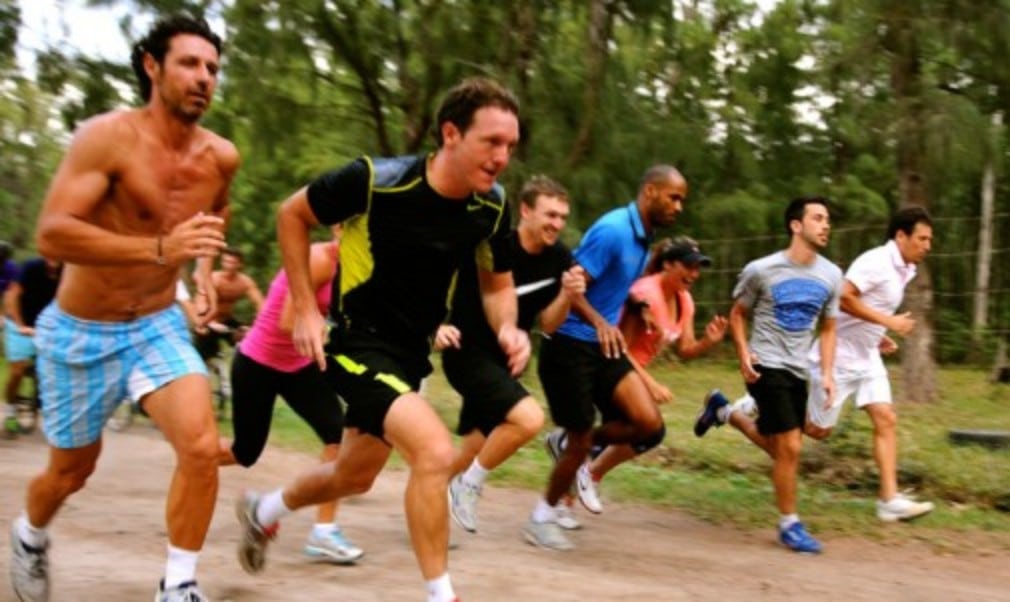 Mouratoglou: No substitute for starting season in good shape
Originally published on 10/01/14
The ski resort of Val d'Isere in the French Alps and the beautiful Indian Ocean island of Mauritius are worlds apart, but they have one thing in common. Both play a big part in the development of tennis champions.
Players from my academy have done their winter training at those two places for several years now. As a general rule the players' pre-season training lasts between five and six weeks. Making it any longer can be counter-productive.
If you are practising and training for too long, it's inevitable that your motivation drops towards the end. If that happens, the quality of your practice can dip too – and you don't want that to happen just before you start competing again. Our programme usually breaks down into a first week at the academy in Paris, a week to 10 days at Val d'Isere and three weeks in Mauritius.
When my players go on holiday at the end of the season I encourage them to let go and relax – within certain limits of course. After a hard and stressful year I think that's really important: it's almost a case of it being professional to be unprofessional when you go on your holiday.
However, I always recommend that the players start doing some physical work in the last 10 days or so, particularly if they take a long break. Even so, it's inevitable that one or two report back out of shape, which is why our first week in Paris this winter was crucial.
We ensured the players are in the right condition to benefit from the hard work they will do in the Alps, where the goal is to push them and not simply to get them back to square one.
Val d'Isere is all about hard physical work. The conditions are extreme. It can get really cold. We work for between four and six hours every day. Apart from some gym work, everything is done outside. Running in the cold and at altitude is tough. Running in snow is like running in water. This is the time when you do your cardio work and doing it at altitude is particularly beneficial.
I also believe that psychologically it's really good to push yourself. Some players don't like the training in the mountains, but others love it. Grigor Dimitrov, who is no longer at the academy, really enjoyed it, as does Enzo Couacaud, who is one of our most promising players. Maybe that's because Enzo is of Mauritian origin and isn't used to being in the snow. He's only 18 but he has already broken into the world's top 500.
The academy's fitness trainers are very creative with their programmes. Sometimes they wake the players up at 4am and tell them: 'OK, get dressed, we're going.' They go out into the mountains at night, climb for three hours and then watch the sun rise from one of the peaks. They also do really long walks in the mountains – sometimes for six hours, at a good speed. Making the work interesting and varied helps the players enjoy it.
We also look at what the players are eating. We have a nutritionist at the academy and he faxes all the menus to the restaurant where we eat. If any players have put on a kilo or two, they will soon lose the weight with a combination of the physical work and their diet.
I think everyone loves our stay in Mauritius, which is a perfect training base for anyone starting the new year in Australia or New Zealand. It's more than halfway to Australia, which means that you've already broken the back of that gruelling journey. The conditions are very similar to what we can expect in Australia. It's hot and can also be very windy.
We take quite a big party, including all the academy players who are going on to play in Australia, each of their coaches, a physio, two fitness trainers and a couple of sparring partners. We sometimes bring in players from outside the academy if they have a good attitude and are of the right standard.
This year, for example, the Chinese player Peng Shuai joined us. I also added two or three younger players from the academy who did well and who worked hard during the past season.
I've got to know the people at the Hotel Paradis in Mauritius, where we stay, very well and they really look after us. Everything we need is there: tennis courts, a gym, physio rooms etc. As part of the deal we do tennis clinics for kids, exhibition matches and even a pro-am event involving hotel guests. They love it. Martina Hingis joined us last year and one of the guests got to partner her. How good is that?
We do a mixture of physical training and on-court work. Again, we try to make the physical work enjoyable. We work on the beach and we even spend one day climbing up a local mountain. We push the players hard because this is where they build their physical base for the season.
Some of the work is done in teams. We have teams of two – everybody, including the coaches, join in – who run and cycle non-stop for 15 minutes. It's really intense. We also do a triathlon – swimming in the sea, running on the sand, and then cycling – plus our own version of orienteering, where you have to find your way by map and then pick up an object or spot something at each of your destinations. It's fun but also very physical.
Recovery is very important. I've been working for the last 15 years with a doctor in physiology, who has worked on recovery protocols across a whole range of sports in France. He has worked with the French football and basketball teams plus all the Olympic athletes.
After very tough sessions we have a big bath with ice and the players have to keep going between that and the sauna. It's really difficult but it's also fun. And because of those protocols the recovery is great and we can push more the next day. We do a block of four days of intense work and then have half a day off. After another four days of hard labour we take a full day off. It's fun because we can relax on the beach or do things we might never do elsewhere like swimming with the dolphins or fishing.
This is also a time when you can work on the players' games, because it's much more difficult to do that when they are in competition. For the older players it can be more about adding to their game rather than changing anything.
For example, I wouldn't think of altering anything in Serena Williams' game, but at this time last year we worked a lot on her drop shots. We improved her technique during pre-season, she went on to use the shot more during matches and as the year progressed we talked about how and when she should use it. Her drop shot got better and better through the year and has now become a very useful weapon.
When I go to the first tournaments of the year I often notice those players who have been doing their preseason training in Europe. They might have worked hard, but they can struggle physically. They seem jetlagged and tired and are totally unused to the heat.
With the time difference and the heat, the sudden change can be painful for the body and it can take you several days to recover. When my players leave Mauritius and head for their first competitions I know that they are well prepared. The season is long and demanding and there is no substitute for starting it in the best possible shape.
This article originally appeared in Vol 4:6 of Tennishead Magazine. To read Patrick's next exclusive column be sure to check out the next issue.