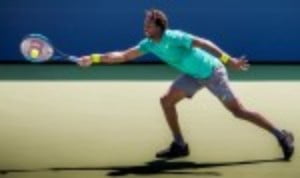 Monfils to face Young
Originally published on 30/08/17 00:00
A semi-finalist last year, the charismatic Frenchman is seeded No.18 here and is in the top half of the draw. He was forced to play his first round match on Wednesday because of yesterday's prolonged rain delay.
Despite serving 18 aces and winning 81% of points behind his first serve, the 30-year-old was less than thrilled with his display. "I am not feeling too good," he conceded. "I did not play great tennis. I was just a little bit more solid than him but I am not very happy with the way I played today."
He says he is still searching for his best form and admits he was troubled by a long-standing knee complaint.
One of 13 Frenchmen involved in the draw, Monfils will take on Donald Young in the second round. The pair has not met since 2011 but the world No.22 is expecting a tough match and he took time to highlight the qualities of his next opponent.
"I think he is a very good player," said Monfils. "He is very talented, he is very fast, he can strike the ball well on both sides and he's got great hands. I know he can pull through tough matches, I have seen him do it many times. He is a great fighter."
Monfils celebrates his 31st birthday on September 1st , and he will hope for an early birthday present on Thursday.
This story is brought to you by Asics