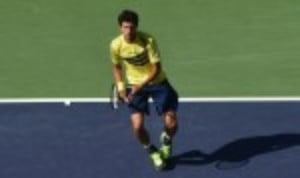 Melo climbs to world No.1
Originally published on 04/11/15
Melo climbed to world No.1 this week, following in the footsteps of compatriot Gustavo Kuerten, who became world No.1 in singles in December 2000.
Like Kuerten, a three-time French Open champion, Melo won his first men's doubles Grand Slam at Roland Garros, winning the title in June with Ivan Dodig.
The 32-year-old has won three titles with Dodig in 2015 and is unbeaten since September, winning three titles back-to-back in Tokyo and Shanghai (with Raven Klaasen) and Vienna with Lukasz Kubot.
"I'm living the dream, playing three tournaments — winning 500, 1000 and 500 points again," said Melo. "There was a lot of pressure on my shoulders to become No.1. This is a tough achievement. I am a really lucky guy to be No.1 with the Bryans still around."
The last time a name other than Bryan was at the top of the rankings was back in September 2012, when Max Mirnyi and Daniel Nestor were at the top of the pile for 18 weeks.
"Being No.1 in the world was always our lifelong dream and to achieve it for the first time in 2003 was one of our proudest moments," Bob Bryan told ATPWorldTour.com. "It's something that nobody can ever take away from you and in many ways is more special than winning any individual tournament.
"It always gives us great pride when we're introduced as the No.1 players in the world. We love that feeling and will always strive to spend as much time there as possible."