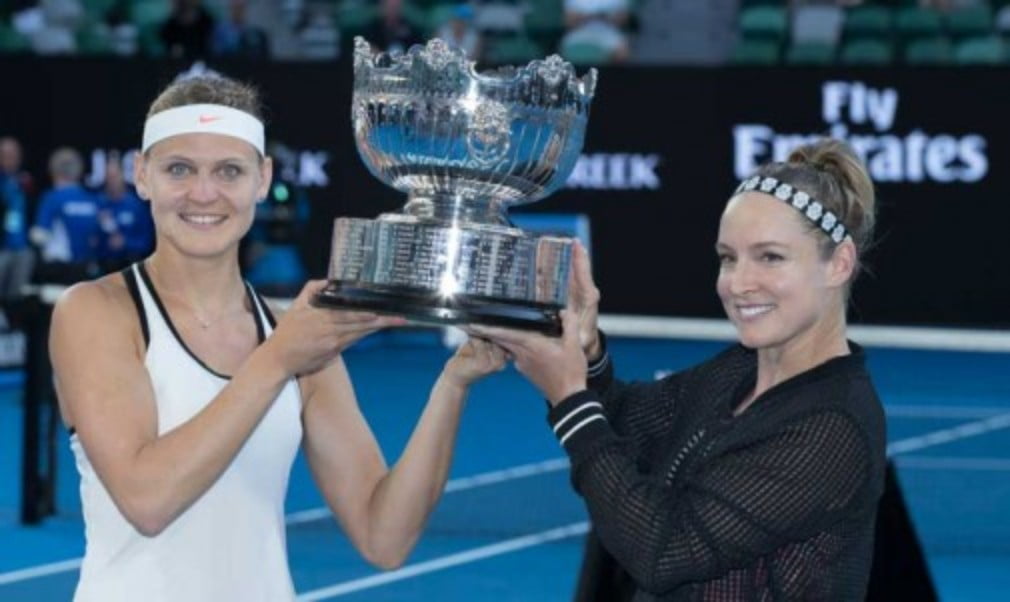 Mattek-Sands and Safarova win again
Originally published on 27/01/17 00:00
Mattek-Sands and Safarova dropped the first set in the tiebreak, but came back to win 6-7(4) 6-3 6-3 on Rod Laver Arena.
"We were positive. Never doubted that we would be able to pull it out," said Safarova.
Hlavackova and Peng were in good form coming into the final, having defeated the No.3 seeds Ekaterina Makarova and Elena Vesnina in the quarter-finals and had put out the No.1 seeds Caroline Garcia and Kristina Mladenovic in the semi-finals.
By contrast, the highest seeded pair that Mattek-Sands and Safarova had faced was the No.11 seeds Raquel Atawo and Yifan Xu in the quarter-finals and they had a walkover in the third round.
"I think we really balance each other out," said Mattek-Sands. "We talk a lot during points, on the changeovers. It's all positive. I know there were a couple games we were up 40-Love and we lost them. It's easy to think you had an opportunity and you missed it. But it's not the case. We play every point new, fresh, and we play our game."
Mattek-Sands is the world No.1 ranked doubles player and she is a formidable opponent. Following her 23rd doubles title in Brisbane earlier this month she overtook Sania Mirza for the top spot in the WTA doubles rankings. She is the first American woman to achieve the No.1 doubles ranking since Serena and Venus Williams jointly held the mantle in June 2010.
Her partnership with Safarova has yielded four Grand Slam finals. The pair won the first ever tournament they contested as a team when they won the 2015 Australian Open. And it was a high quality final today – all four finalists owned at least two Grand Slam doubles titles – with Mattek-Sands and Safarova having won three together – they won 2016 Roland Garros and 2016 US Open in addition to the 2015 Australian Open.
"I think it really has clicked from the beginning. It really hasn't stopped," said Mattek-Sands. "I think it's gotten better. Lucie is one of my best friends off the court. We talk about life. We talk about tennis. I think more life stuff."
Sometimes they play unconventional doubles in that they don't both always go to the net together, with Safarova explaining that they play to their strengths. "I'm Spiderman at the net and she's the Czech wall," joked Mattek-Sands, "but also we use tactics where we mix it up. A lot of times some great doubles teams get used to seeing one thing. That's why we'll play I-formation.
"Against the Japanese team (Eri Hozumi/Miyu Katowe) we stayed two back. We actually mix it up based on how our opponents are playing, where they're returning, what they like. Then we go with what we like, too. I think that's a big part of our success, is we mix it up. We can both be at net. We can both be at the back."
Both players are good singles players too. Safarova was beaten here in the second round by Serena William and Mattek-Sands fell in the third round of qualifying.
"I think doubles is a great competition. I really enjoy playing it," said Safarova, who was ranked as high as world No.5 in September 2015 in singles.
Mattek-Sands will retain the world No.1 doubles ranking when the new rankings are released on Monday, January 30. Had Garcia and Mladenovic won their semi-final she could have lost it. The pair were delighted to have won their fourth Grand Slam title together.
"We were celebrating like five-year-old kids out there. I mean, it still feels amazing to win it. It's a Grand Slam. When we got the trophy, we saw our names written on it. We know we get it written on there again. It's just special."