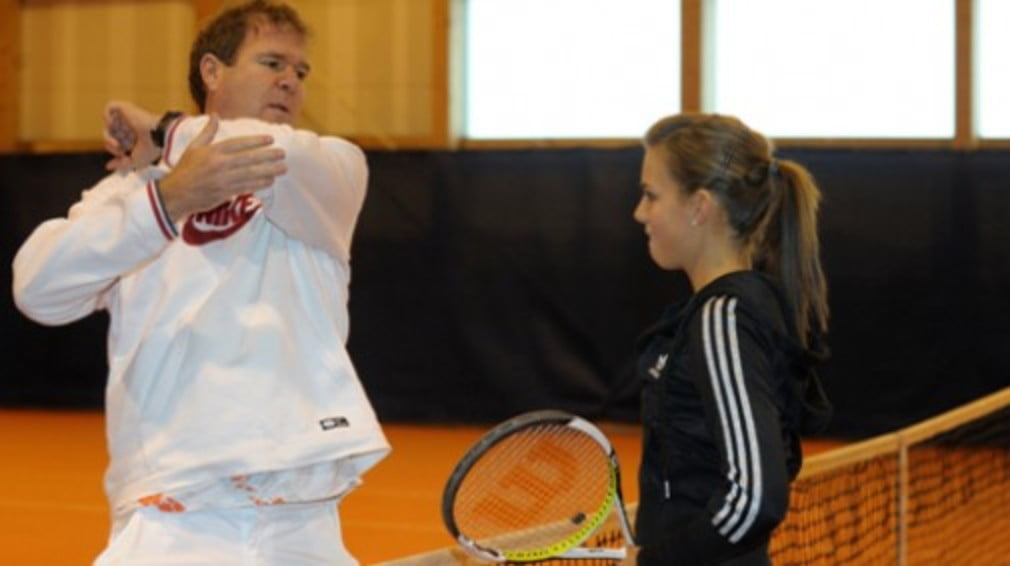 Mathis joins MCTA, Fitzy fit again
Originally published on 26/02/10 11:21
Sixteen-year-old Austrian Christina Mathis is the latest player to join the MCTA Academy programme, director David Sammel has confirmed.
Sammel has told Tennishead that the young Austrian has been training with the squad for around a month while playing some senior ITF events in the UK. The MCTA set-up includes Tennishead bloggers Wes Moodie and Anna Fitzpatrick among its playing staff.
Christina has shown a superb work ethic coupled with a fantastic ball striking ability, Sammel said. Our fitness trainer Jez Green was impressed with her athletic potential as well so the all-round view is that Christina is a player with huge potential.
'Often its only when something is taken away from you, do you fully appreciate its value' – Jez Green
In her first tournament with MCTA, a $10,000 ITF event in Jersey last week, Mathis underlined that potential by qualifying and making the quarter-finals, eventually being stopped by another MCTA player, Steffi Boffa, from Switzerland. Mathis also teamed up with Boffa to reach the quarter-finals of the doubles.
The event marked a big step forward for the teenager who earned her first world ranking points in singles and doubles. The Austrian will play another three $10,000 events in Spain before the end of the year.
Mathis is supported and managed by MCTA Group to maximise the players talents.
Boffa continued her recent improvement by making the final in Jersey. She will next play a $10,000 ITF in Spain before ending the year with a $75,000 tournament in Dubai.
There was even more good news for the MCTA team when Anna Fitzpatrick learned recently that her stress fracture has completely healed.
Anna is now strengthening her legs in preparation for 2009, Sammel said. It has been a long three months out for Anna and she is looking forward to getting back to the tour.
Green said the break will mean that the 19-year-old from Yorkshire should return to the tour full of enthusiasm.
We hope Anna will be able to use the physical work shes put in while shes been away, said Green, who also works with world No.4 Andy Murray.
Often its only when something is taken away from you, do you fully appreciate its value.