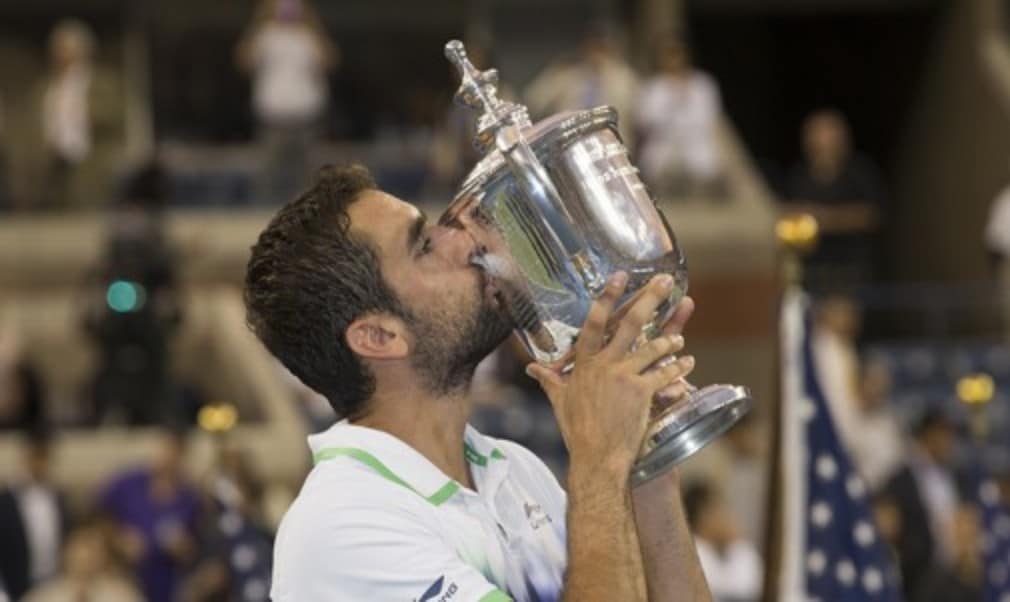 Marin Cilic wins US Open with blistering display
Originally published on 09/09/14
Cilic surges to maiden Grand Slam victory at US Open
Marin Cilic was unstoppable. Picking up where he left off against Roger Federer in the semi-finals of the US Open, the world No.16 outgunned and outplayed fellow Grand Slam final debutant Kei Nishikori to claim his maiden major with a 6-3 6-3 6-3 victory.
Cilic joins coach Goran Ivanisevic as Croatia's second male Grand Slam singles champion. Both claimed their titles on a Monday, Ivanisevic's 2001 Wimbledon win held over by rain, Cilic's triumph by an experimental schedule. "Now none of the Croatians can lose at the final on Monday," The 25-year-old said.
It certainly looked that way. Early in the showdown with the Japanese No.10 seed it became clear that Cilic was striking the ball with greater venom, moving with greater conviction and constructing points with greater accuracy. Nishikori, finally playing like a man with too many miles on the clock and unable to pick up the free points his opponent was gathering on serve, simply could not match up.
With the Arthur Ashe Stadium at barely half-capacity as the final began shortly before 5.15pm, Nishikori briefly held a break point in the opening game, but that was as good as it got. Cilic went on to claim 19 of his next 20 points on serve, breaking the 24-year-old in the sixth game to decide the opener.
Nishikori had dealt with the big-serving Milos Raonic in the fourth round, driving the Canadian to distraction with his ability to read the serve, but Cilic proved to be a different prospect. Rock solid in his own service games, the Croatian's return – the most devastating stroke during his defeat of Federer – helped him to two further breaks in the second set. Nishikori broke back to stop slipping two sets behind but Cilic returned with interest, breaking once more to serve first in the third.
Another early break left Cilic with nothing more than to hold his serve for the title. But as Nishikori began swinging with the freedom of a beaten man, the 25-year-old tightened up, and might have been broken in game seven were it not for some tame returning from his opponent.
But survive he did, and with that Nishikori's resistance crumbled. The final game disappeared in the blink of an eye, Cilic crashing onto his back in the middle of the court before joining Ivanisevic and his team in the crowd.
"It seems completely unreal to be called Grand Slam champion," Cilic said. "I was dreaming about this all my life, and suddenly last four, five days everything started to change – with my tennis especially.
"I started to play absolutely unbelievable starting with the fifth set with [Gilles] Simon. After that I had unbelievable run of the matches against these top guys.
"And to me, it means everything. It's just a huge accomplishment and huge moment for myself and for my team and for everybody around me who was with me all these years supporting me, believing in me and never giving up. So this is just the peak of the world."
Quote of the day
"Every second day is the same day for all of us. Just before coming to tennis my fitness trainer, physio and Goran would have a coffee, have breakfast at the same place. I would stay back at our place, have breakfast on my own.
"And then, many different things. Not shaving: myself not shaving, not shaving himself. Yeah, it was just Goran was going through his Wimbledon moments again. We didn't watch Teletubbies, though."
Marin Cilic reveals that Goran Ivanisevic is just as superstitious as a coach as he was as a player – albeit without the kid's TV shows this time around.
Stat of the day
11 – Breaks of serve Marin Cilic conceded across seven five-set matches. He held serve 100 times in all. Also, Andy Murray's new world ranking – his lowest ranking in six years.