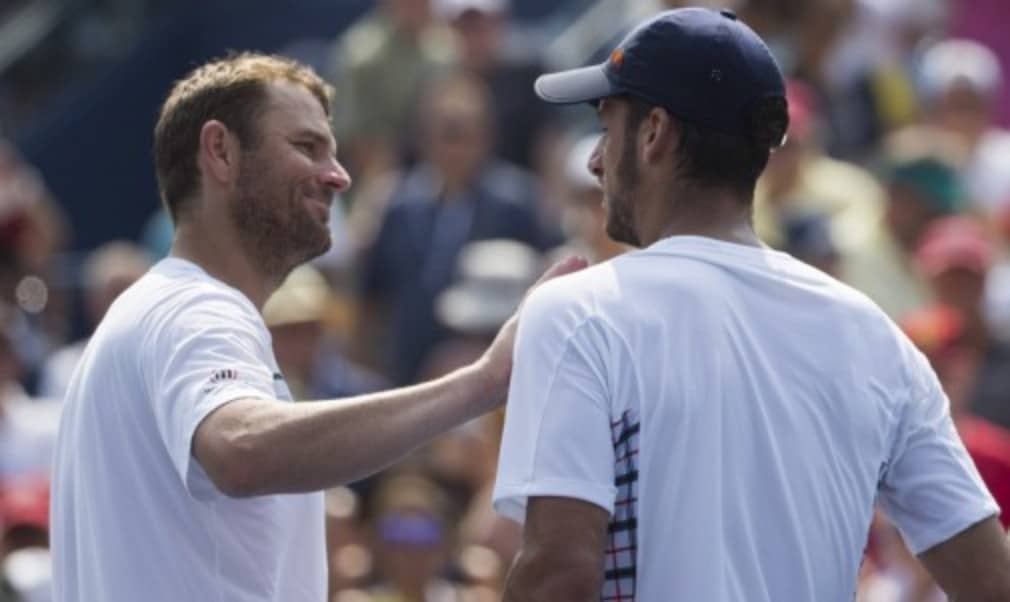 Mardy Fish bows out on his terms in New York
Originally published on 03/09/15
Mardy Fish had it.
It was on his racket, as he must have dreamed of when he committed to one last run at the US Open before retirement, as we covered on Monday. He had gone toe-to-toe with Feliciano Lopez, the No. 18 seed, for over two hours in front of packed stands on Louis Armstrong, almost every one of them willing him over the line. Leading by two sets to one, serving at 5-4, this was his moment.
Then the cramp bit in.
"Both sides of both legs," Fish said. "If I moved anywhere close to three or four steps, two or three steps, it would go. Obviously I'm not in as good of shape as I used to be a few years ago. That probably wouldn't have happened a few years ago. I probably would have been fine in the fifth set. I worked as hard as I could. My body is just about done."
Broken to love and run to a standstill, Fish's fairytale of New York had turned grim. Early in the fifth set he called for the trainer; by the time Lopez was 4-3 ahead with a break, there was still no sign of him. "You can't get the trainer in 15 minutes here?" he pleaded with the umpire, incredulous, leaving the chair for the last time as a professional tennis player. With the air sucked out of the stadium, Lopez reluctantly applied the final blow to win 2-6 6-3 1-6 7-5 6-3.
As Fish returned to pack his bag, the trainer arrived.
"This isn't a sports movie, of course, and there won't be a sports movie ending," Fish wrote in his essential, moving first-person account of the events of the past three years for the Players' Tribune. "I won't be riding off into the sunset, lifting a trophy. I'm not going to win the tournament. But that's fine by me — because honestly, this isn't a sports story."
He waved, he walked, he heard the applause. And with that, on his terms this time, he called it a career having served one last reminder: Mardy Fish had it.
That wasn't in the script…
This one is a sports story. For many, it is the sports story – not only of this US Open, this season, even this sport, but of this age.
Today, the first plot twist arrived.
"Congratulations, Serena, you played very well," began the post match interview. "I don't think I played well at all," she fired back. The annoyance was palpable, the angst barely veiled. Williams may have beaten Kiki Bertens in straight sets to book a showdown with Bethanie Mattek-Sands, but the 7-6(5) 6-3 scoreline gives some flavour of how far the qualifier pushed her on Ashe.
Rising to the occasion and with expectations weighing heavy across the net, Bertens played fast and loose from the outset, breaking Williams in her opening service game and keeping the 21-time Grand Slam champion at arm's length until late in the set. Even when the top seed broke back it did not mark the opening of the floodgates against the world No.110, who threw her racket in frustration after losing a tiebreak she had led 4-1. Resistance proved futile in the second set, but the match took more of a toll on Williams than expected.
"I definitely feel like I was definitely a little colder," Williams said, looking at the first-round retirement of Vitalia Diatchenko as a lost opportunity to get match-sharp. "I just said, 'One point at a time'. Like I said, when I get down, I tend to get really relaxed and I start to play a little better."
It was a reminder that this is New York, not Hollywood. The scripts are grittier on the east coast, the endings not always happy. Williams has deflected virtually all talk of the Calendar Slam and a 22nd major to this point but admitted it was, inevitably, starting to infiltrate her thoughts on court.
"Until today I was okay with it," said Williams, who returned to the practice courts to work on her faltering serve before leaving Flushing Meadows.
"I just got a little nervous today. But, you know, I've been doing totally fine. I've been completely relaxed, chill. So I'm going to get back into the place that I was, and I'll be fine again."
Up next for Williams is Bethanie Mattek-Sands, who has reached the third round at the US Open for the first time in her injury-plagued career. "That's a fun role to play, mess up the draw a little bit," she said of the prospect of stopping Serena's historic run in its tracks. "I have nothing to lose. I'm focused on me and how I play. I know how Serena's going to come. She plays aggressive – I mean, she plays big."
Showtime no more?
For the uninitiated, Brad Gilbert has a nickname for virtually every major tennis player. Roger Federer is Fedfan. Andy Murray is Muzzard. There's Milos 'Missile' Raonic, Belinda 'Bend it' Bencic, Tomas 'Birdman' Berdych and, a personal tennishead favourite, Jurgen 'Tuna' Melzer. Thanasi Kokkinakis is TK4, while Serena Williams, for now, is SW21.
It's a Twitter tradition that the former world No.4, coach and ESPN analyst takes very seriously – so much so, he took one of those names back on Wednesday: 'Showtime' is once again plain ol' Grigor Dimitrov, after crashing out to world No.57 Mikhail Kukushkin in five sets to wrap up a disappointing year at the majors.
"After Dimitrov loss today to Kukushkin he loses his Showtime [nickname] until posting way better results," Gilbert wrote on Twitter.
Gilbert has a point. A Semi-finalist at Wimbledon in 2014, Dimitrov's best showing at a Grand Slam in 2015 was his fourth-round run at the Australian Open, just the fourth time he has reached the second round of a major in his career. Since then, he has won just three Grand Slam matches – two at Wimbledon, one in New York.
After his long-awaited 'breakthrough' in 2014, the sense of transition in Dimitrov's season is hard to shake. Roger Rasheed is out of the setup and Maria Sharapova is out of his life, while he has finally settled on a new Wilson racket after months of experimentation.
What he needs now are wins. The run of form that propelled him to the quarter-finals in Melbourne and the Wimbledon semi-finals last season began with his first title win in Stockholm in October 2013 – shortly after Rasheed was appointed. Another crucial autumn awaits.
Quote of the day
"You're testing our patience mate, show us what you're made of and how hungry you are to be the best in the world, it's time to step up and start winning, no excuses."
Nick Kyrgios was taken to task by Australian cricket legend Shane Warne in an open letter on Facebook, urging the 20-year-old to realise that "respect is way more important than being liked".
Thursday's ones to watch
Stan Wawrinka vs Hyeon Chung
Qualifier Chung, one of 10 teenagers who reached the main draw, has turned plenty of heads on the Challenger scene, reaching five finals and claiming three titles at the age of 19. After bowing out 10-8 in the fifth set on his Wimbledon debut against Pierre-Hugues Herbert, he has a Grand Slam win to his name after beating James Duckworth in straight sets. Now, the small matter of the reigning Roland Garros champion…
Johanna Konta vs Garbine Muguruza and Aljaz Bedene vs Donald Young
Andy Murray faces Adrian Mannarino to close the day session on Ashe, but it's the back-to-back Brits on Court 17, the bullring-like hidden gem tucked in the south-east corner of the National Tennis Center complex that have grabbed our attention. Konta, the last woman standing for GB, has more than a fighting chance against Muguruza: she was the last player to beat the Spaniard, at Eastbourne, before Serena Williams stopped her in the Wimbledon final. Bedene will also fancy his prospects against Young, having won their previous meeting in Vienna three years ago, albeit in three tight sets.
Bernard Tomic vs Lleyton Hewitt
Somehow, this is the first meeting between the Davis Cup teammates. It could also be Hewitt's last match at the US Open, the scene of his maiden major triumph in 2001.