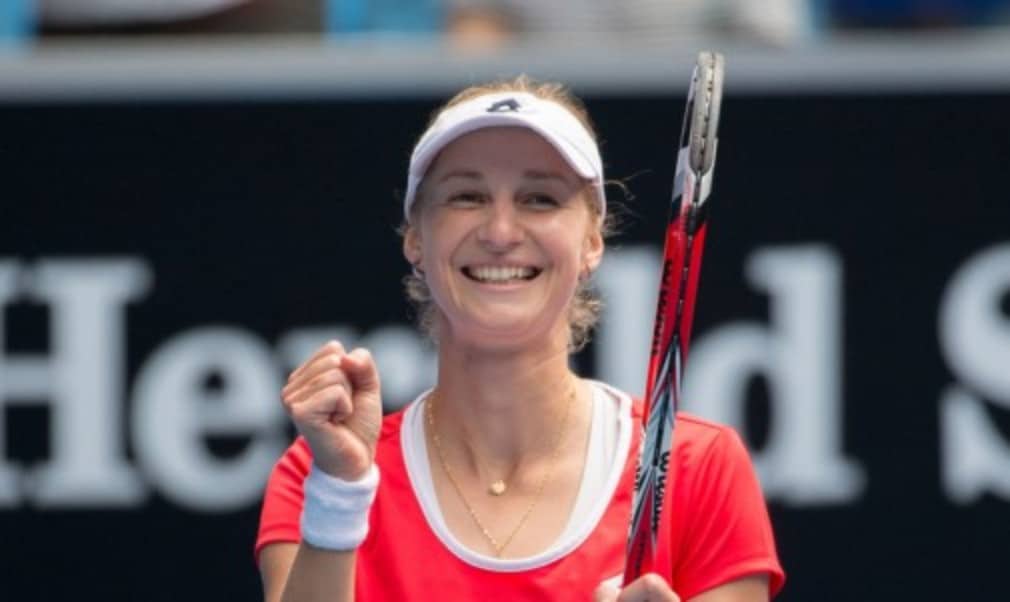 Makarova sets all-Russian semi-final
Originally published on 27/01/15
The Russian has reached the semi-finals of her second consecutive Grand Slam. At Melbourne Park she has yet to drop a set. "I'm so comfortable here," she said. "It's all atmosphere and all that, maybe memories from New York".
At Flushing Meadows last year she reached the semi-finals and she also won the doubles title with Elena Vesnina. Makarova and Vesnina hold two Grand Slam doubles titles together (US Open 2014, Roland Garros 2013). "She's a great person, I really enjoy playing with her," she said.
Later in the day Makarova and Vesnina played Bethanie Mattek Sands and Lucie Safarova. "I want to go and play my doubles. I will practise some shots that I need to practise".
Her semi-final opponent is fellow Russian, Maria Sharapova who defeated Eugenie Bouchard 6-3 6-2. The all-Russian semi-final shows the current strength in Russian women's tennis. Makarova, who is 26, talked of a time growing up when Elena Dementieva, Svetlana Kuznetsova and Dinara Safina were playing. She also remembers 2004 when her idol Anastasia Myskina defeated Elena Dementieva to win the 2004 French Open.
"There was a great time. We had four girls in the quarter-finals, two of them in the semis," she recalled. "I really wanted to be one of them when I was watching them and learning things from them. I'm happy that at these tournaments it's a bit like that."
Makarova has played Sharapova five times before and the Russian No.1 has won on each of those occasions, the last time was here in Melbourne in 2013, when the five-time Grand Slam champion won their quarter-final in straight sets, 6-2 6-2.
"I have never beaten her, so it will be tough," admitted Makarova. "She's a great fighter. She nearly lost here in the second round. I'm looking forward to it".
Seeded No.10 here Makarova will go into that match as the lower ranked player and Sharapova knows that the left-hander will be a dangerous opponent.
"That's always a tricky situation because she's going to come into that match free and almost happy to be in that situation, and that's dangerous," Sharapova said. "I haven't faced a leftie in the tournament yet. She's been using her lefty serve extremely well from what I've seen."
Makarova takes inspiration from her fellow Russian, Anastasia Myskina. "She is my idol from when I was a junior," Makarova said. "She is helping us in Moscow and she is captain of the Fed Cup so we are so close. She is helping me a lot with the confidence. She is a Grand Slam champion and she is giving me some tips."
Although she will be travelling to Doha and Dubai with Myskina, she is not in Australia, but Makarova revealed the 2004 French Open champion "has texted me every day".
This story is bought to you by Wilson, official sponsor of Tennis Australia and the Australian Open