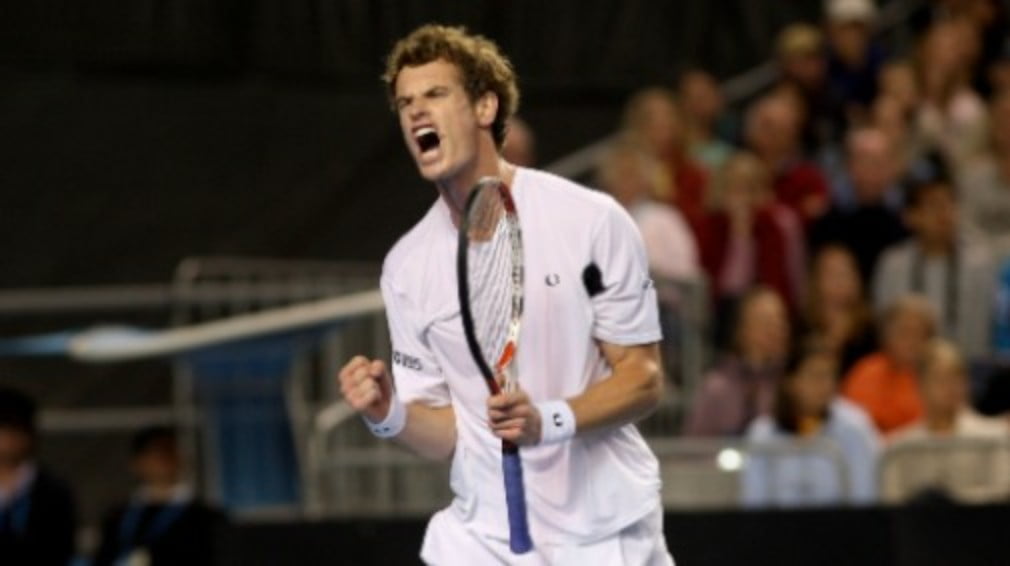 Magic Muzza dispatches Melzer
Originally published on 26/02/10 11:25
I arrived at Hisense Arena as No.4 seed Andy Murray was 4-3 up in the first set. The stadium was half full and it was certainly a bit chilly this could be a long night I thought – lucky I have my scarf.
But if only I had known what was going to happen next I wouldnt have worried. Andy took the first set 7-5. There were some longish rallies but Andy showed he can be patient and I guess in what is described as a workmanlike set he wrapped it up in 42 minutes.
At times he covered the court so fast I would have fancied him beating Usain Bolt…
What came next was an awesome display as he bullied Melzer around the plexicushion. In a stunning display of speed, agility and touch he won 6 consecutive games and took the set in 24 minutes. It was a sizzling second set.
So, at 8.56pm we were in the third and Murray raced into a 3-0 lead. At 2-0 30-15 he covered the court so fast I would have fancied him beating Usain Bolt. And when he got to the ball he still managed to show control and win the point.
From the end of the first set until Melzer won his first game in the third the Austrian was 40 minutes without winning a game. How must that have felt?
Murray wasnt entirely ruthless though he did allow Melzer to win 3 games in the final set. All credit to Melzer who mustered something of a late charge – he saved two match points on his serve at 5-2. In the press conference afterwards, Melzer admitted that at this point he was trying to avoid the double bagel.
After 1 hour and 38 minutes Murray served at 5-3 and although he lost the first point he soon got himself to 40-15. This time he took the third match point with a thumping unreturnable serve and he turned to his team and pumped his fist to acknowledge the victory.
It was a privilege to be there, watching such talent. Melzer was generous in his praise of Muzza, acknowledging that in his opinion Andy had played perfect tennis and said that Andy was up there in the top 3. When pressed on how the oft talked about four became three he said he would omit Novak from the list, grouping Roger, Rafa and Andy together.
So there you have it. In just 1 hour 40 minutes, Andy Murray booked his place in the last 16. 7-5, 6-0, 6-3. Super Saturday indeed. Fernando Verdasco had better watch out when they meet on Monday in the fourth round.
Theyve met 5 times and Murray has won them all. On the strength of what we saw today – although Verdascoss victory against Radek Stepanek was in straight sets, including the dreaded double bagel (Andy wondered in his press conference if Stepanek had been injured, or was that the start of the mental game?) – I dont think the Spaniard was as convincing as our Muzza.
Melzer says for Fernando to have a chance hell have to have a plan.