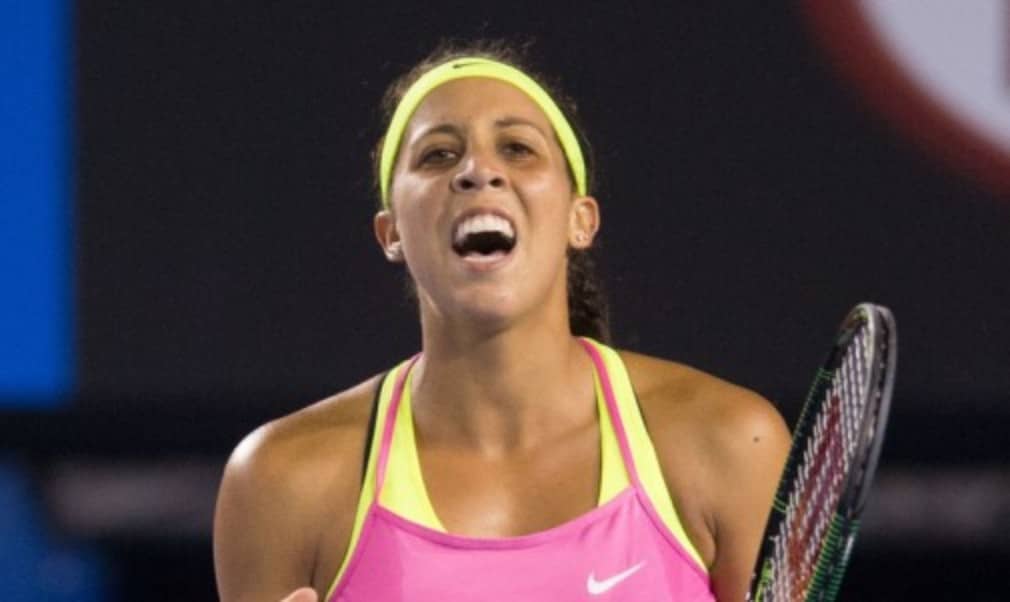 Madison's Key
Originally published on 26/01/15
Seventeen American women featured in the main draw here at the Australian Open and four of them advanced to the fourth round. Not since 2003, when five American women made it to the last 16, has there been so much to smile about in the States.
Arguably the greatest prospect among all the young Americans is 19-year-old Madison Keys, who is coached by Lindsay Davenport, a former Grand Slam champion and world No 1.
Serena Williams is among those who have sat up and taken notice of Keys' progress. On Margaret Court Arena on Monday Keys faced her fellow American, namesake and friend, Madison Brengle, with a place in the quarter-finals at stake. Both women were playing in the fourth round of a Grand Slam for the first time in their careers.
Keys, who won 6-2 6-4, is the fifth highest ranked American at the moment, behind the Williams sisters, Varvara Lepchenko and Sloane Stephens. She won her first WTA title in 2014 at Eastbourne, defeating two top 10 players, Angelique Kerber and Jelena Jankovic.
Davenport and her husband, Jon Leach, were recruited to Keys' coaching team last year. Davenport spent 98 weeks at the top of the world rankings. She won 55 singles titles, including three Grand Slams, and 38 doubles titles. She has been working with Keys since November.
In the second round Keys defeated the No.29 seed and home favourite, Casey Dellacqua, and then notched up an impressive straight-sets victory over the two-time Wimbledon champion and No.4 seed, Petra Kvitova. Davenport had given Keys some simple advice before that match: "She was just telling me she has a great serve, so try to make her play as many balls as possible," Keys said.
The young American had also been working with Davenport on her return of serve and the practice and the strategy came good. Keys admits that she can over-complicate things on court.
"I think I was so focused because I knew she had such a great serve and I knew it's such a weapon for her," Keys said after that match. "I was really just trying to get every return into play. And I was able to do it. I think it was just one of those nights where I was kind of feeling it and I just went with it and I didn't question it. The fact that I managed to stay with her and stay so disciplined and keep playing my game is what I was most happy with.
Going into her fourth-round match the teenager remained grounded. "I feel good about it," she said in advance of her meeting with Brengle. "I feel like I've made a lot of improvements. But at the same time it's one of those things where I want more. I want to keep doing better. So I'm not really getting ahead of myself and letting myself get too excited over this. I'm just treating it like another win."
The meeting of the Madisons was their first in a main draw. The pair met in qualifying at the 2012 US Open, when Keys won in straight sets. As world No.35, Keys is ranked 29 places higher than her friend. Keys, who turns 20 in February, is Brengle's junior by four years. Keys made her tour debut at Ponte Vedra Beach aged 14 in 2009. She was the seventh youngest player to win a WTA main draw match and the youngest since Martina Hingis in 1994.
Keys won the first set in just 23 minutes with an impressive all-court display. Her first serve percentage was 80 per cent and she served five aces, hit 16 winners and won nine out of 10 points at the net. The second set was more closely contested, but Keys sealed the match in just over an hour on her third match point.
Keys' next opponent is either Venus Williams or Agnieszka Radwanska. Serena Williams was asked about Keys following her own fourth-round victory today.
"She's a great girl," Williams said. "She has such a great spirit about her. She does everything really well. She just has so much unbelievable potential and she's so young. It's so good to see her doing so well."
The United States face Argentina in the Fed Cup next month. Win or lose in the next round here, Keys is likely to be a part of that American team. "If she continues to play really well, I'm going to offer her to play my matches so I can have a little bit of a break,"Williams joked.
This story is bought to you by Wilson, official sponsor of Tennis Australia and the Australian Open