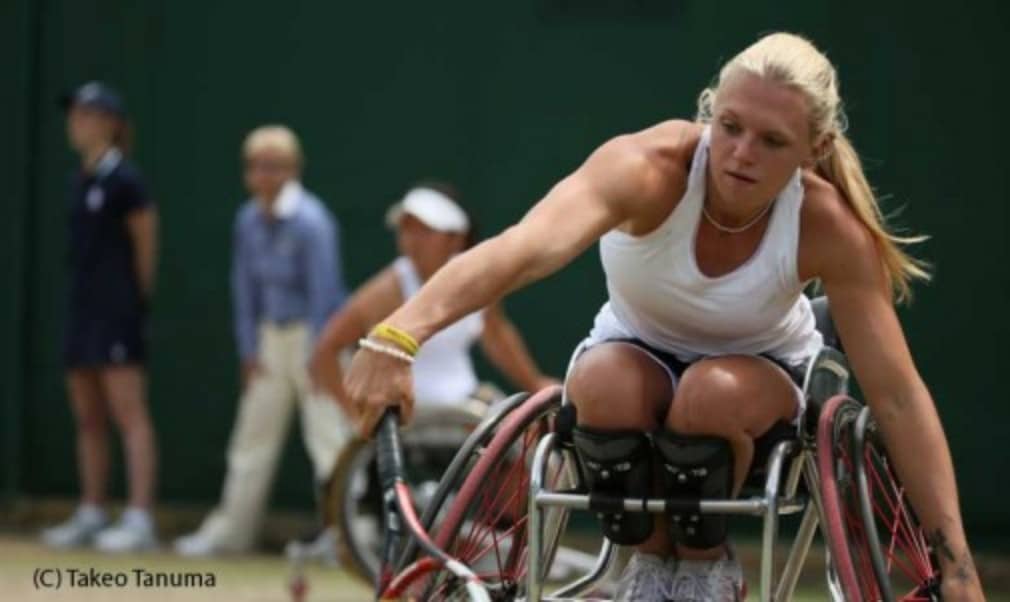 Locker Room: Jordanne Whiley
Originally published on 25/11/14
They may be among the greatest players of all time, but a calendar year Grand Slam has eluded the likes of Roger Federer, Serena Williams and Rafael Nadal. But Whiley, who was diagnosed with brittle bone disease at three months, achieved an historic feat at Flushing Meadows when she completed the set in women's wheelchair doubles with Yui Kamiji.
When did you first start playing tennis?
I was three years old when I started playing tennis back in 1995. I tried basketball and tried racing. I found racing really boring even though I was good at it. Basketball I liked but I'm not really a team player.
You can't be that bad if you've just won the Grand Slam in doubles!
Doubles you only have to deal with one other person not a whole team.
What do you love most about tennis?
I love the fact that it's individual and I can really push myself and challenge myself. Every day at training is different so I'm not doing the same thing. I can work on different aspects of my game as well as my mental side, my strength and my health in general. It's an all-round good sport and good lifestyle.
Who were your idols growing up?
I didn't really have any to be honest. It was always my dad because he got me into tennis and then he was my coach up until I was about 12 years old. Now he's retired so he travels with me when he can. He's a huge inspiration for me.
Favourite shot?
Backhand slice
If you weren't a tennis player what would you be?
A coroner! That was what I was studying to be before I quit college. It's 13 years at uni so by the time I had finished in tennis I don't think I would have the energy to do it.
That's longer than it takes to be a doctor!
They say it's because obviously the person can't tell you what's wrong with them. It's really intense. I'll always be interested in science but I don't think I'd pursue it.
Who is your dream doubles partner?
Probably Sharapova. I love her passion and her attacking, aggressive game – I think we'd work really well together!
Favourite tournament?
Wimbledon
Favourite city?
I love Melbourne
Any superstitions?
I always have to have three balls in my wheels at the start of any game and if the game goes to deuce. In any other point I have to have two balls. It's not because I think something will go wrong, it's just habit and I have to it so I feel comfortable.
Any lucky charms in your racket bag?
No, but if I don't wear a bracelet on my right hand I don't seem to play very well. I've always worn a bracelet on my right hand so if I don't it feels odd and I panic so now I always check before I go on court.
What do you do to relax away from tennis?
I love to just come home and watch rubbish TV! Reality TV like The Only Way Is Essex, game shows – just chill out in the evening. I'm an Arsenal fan so I try to go to as many home games as I can. My favourite player is Santi Cazorla – he's awesome.
What's your most embarrassing moment on court?
When I flipped over a fence during a doubles final and broke a rib at a tournament in South Carolina in 2011. We were a set and 4-2 up and I thought I could get this ball and flipped over the fence, and cracked on the hard court broke my rib and got a lots of cuts and bruises. I carried on playing the match and won it in the end in three sets but it was really embarrassing because I fell on the crowd side. It hurt but I played on and the adrenaline kept me going but as soon as we stopped I could hardly breathe it was horrible. I was out for about three months in the end because they can't do anything for a broken rib – you just have to let it heal.
What are the best and worst things about life on tour?
I get to see the world and experience different cultures and languages. The worst thing is having to sacrifice so much. I moved away from my friends and family and you have to sacrifice a social life to dedicate yourself to the sport. It kind of sucks but I guess it is worth it!
Jordanne Whiley is a nominee for the BT Sport Action Woman of the Year Award. To see the rest of the nominees and vote for your winner visit btsport.com/actionwoman. Find out who wins when Clare Balding presents the award in a special hour long show on Tuesday 10th December at 19:30 on BT Sport 1