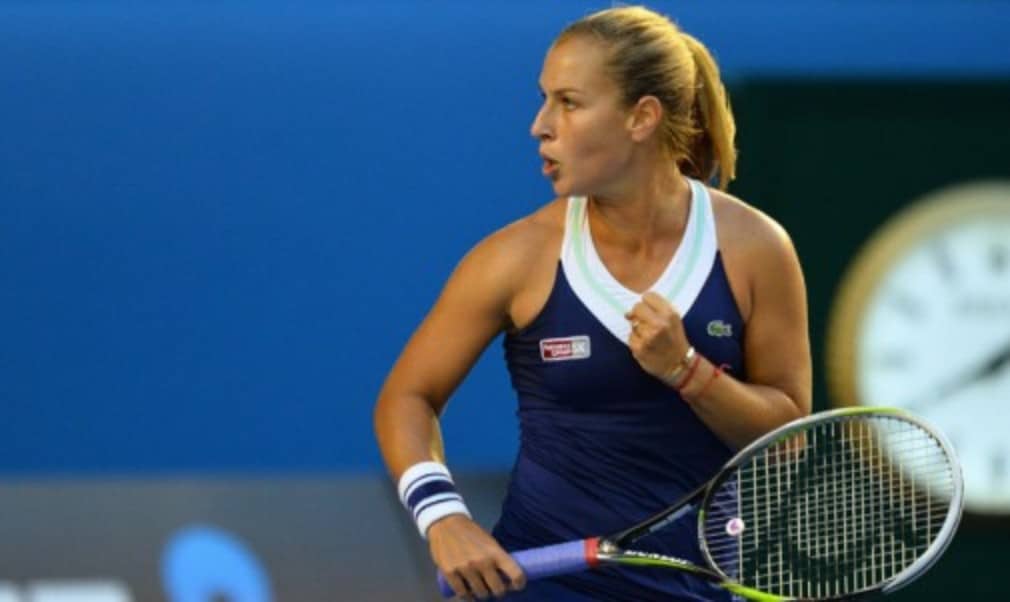 Locker Room: Dominika Cibulkova
Originally published on 26/02/14
We caught up with Cibulkova, who plays with the Dunlop Biomimetic M4.0, to chat about life on and off the court, from pancakes to Leonardo di Caprio.
What is your earliest tennis memory?
I remember playing in a tennis touranament only a week after picking up a racket. I got to the final. I was eight.
How big is tennis is Slovakia? Do you get asked for autographs when you are back home in Bratislava?
I find I am recognized a lot back home, especially after the Australian Open. Tennis is the third most popular sport in Slovakia after ice hockey and soccer. We are a very small country, just five million people so I get a lot of support.
What is it like playing in front of your home fans in the Fed Cup?
It's amazing. There are so many people supporting. Even when we lose the crowd see we are fighting and playing our best and they are really supportive. It's an unbelievable atmosphere.
You had a great start to the year. Are you doing anything differently to last season?
I worked hard on the mental side of my game in December and over the pre-season we were working on that. I think that really helped, but there are so many small things you have to put together to play well.
What part of your game do you have to work hardest at?
I am not a tall person my so I have to work hard on my serve. When I get nervous my serve sometimes stops working as well so we try to work on improving my serve all the time. It is not a weakness but it is something I working hard on.
And what would you say is your biggest strength?
When I am in the zone then I really go for it and I don't give up on any ball.
What's your favourite tournament?
Now it is probably the Australian Open! But seriously, even before I really loved Melbourne. I love playing in Paris and I like to play in Miami and also Rome – I love the European clay tournaments.
What do you do to relax away from the court?
I just do normal things like spend time in my apartment with my boyfriend and my dogs. I don't have time for hobbies but I see my friends and I love to cook pancakes.
And if you weren't a tennis player, what do you think you would be?
I would love to be an actress! When I was younger that was something I really wanted to do but I never got the chance. But I don't think I'm very good! My favourite actor is Leonardo di Caprio.
Looking back at your career so far, is there anything you would have done differently?
No, I have no regrets. You have to learn from your mistakes. You gain experience from every match and you have to use it to improve and get better and discover how to win matches.
Dominika Cibulkova plays with the Biomimetic M4.0 racket, available for £159.99. To view the full Dunlop Tennis range including rackets, equipment and apparel, visit Sportsdirect.com, like Dunlop on Facebook or follow on Twitter @DunlopSport