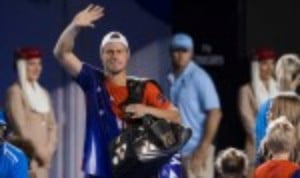 Lleyton's last hurrah
Originally published on 21/01/16 00:00
The former world No.1 lost his second round match to No.8 seed David Ferrer 6-2 6-4 6-4 in what was his final singles match as a professional (he is still in the men's doubles with Sam Groth).
In an emotional final appearance on Rod Laver Arena, roared on by his home fans, Hewitt put up a fight in traditional never-say-die fashion, but he was outhustled by Ferrer in a battle of two of the greatest competitors on the tour.
"Lleyton fights until the last ball. He's unbelievable," said Ferrer, who 33 is only a year younger than Hewitt. "I never had idols. But Lleyton is an idol for me."
Hewitt, who will now turn his focus to captaining Australia's Davis Cup team, received a standing ovation from the crowd before being joined on court by his three children, Mia, Cruz and Ava.
"I got the most out of my body," said Hewitt, who announced last year his intention to retire after the 2016 Australian Open. "I've pushed myself to the limit. I look forward to the next phase in terms of work-wise, in terms of helping these next guys coming through."
Hewitt, ranked No.308 in the world, retires with 30 ATP titles and career earnings of more than $28 million. A two-time Grand Slam champion, Hewitt spent 80 weeks at the top of the world rankings.
"I've been very fortunate that I've had such a great career that I had the opportunity to go out on my terms," said Hewitt. "A lot of great sporting athletes don't have that opportunity. And especially if you pray in a team environment where a coach makes a decision whether you're going to play or not sometimes where you finish your career.
"I actually had the ball in my court in a lot of ways to do that here at the Australian Open. I feel really pleased about that like I've said for the last year or so, I've been very fortunate that I've had such a great career that I had the opportunity to go out on my terms."