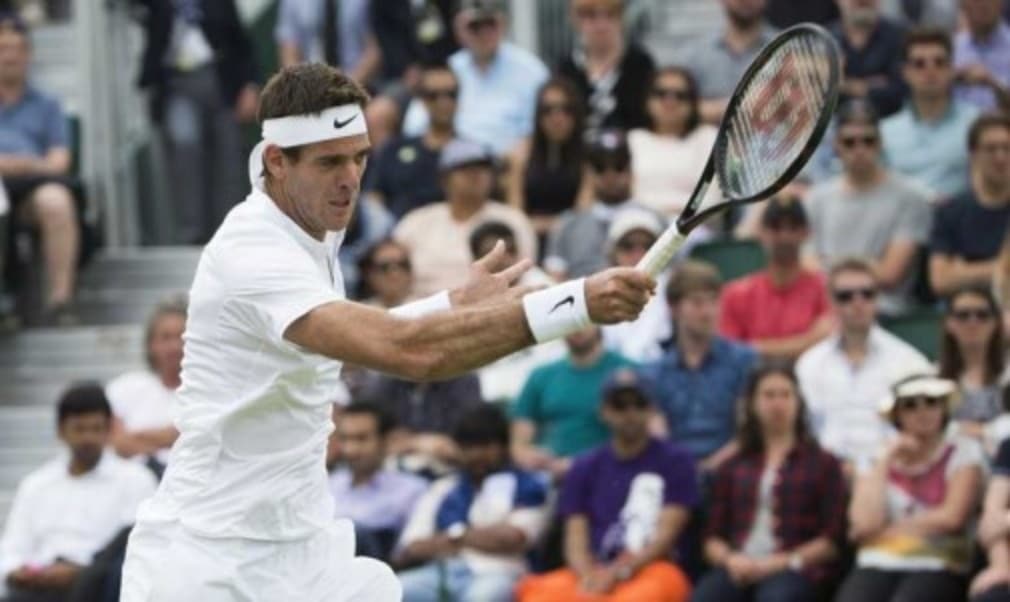 Let's go Delpo
Originally published on 30/06/16 00:00
For any player to take on the two-time Grand Slam champion is a huge ask, but for the 2009 US Open champion, who is playing in his first major tournament since the 2014 Australian Open it is a big challenge, but one in which a lot of people will have a big interest.
Players and fans have welcomed the return of Del Potro following a series of wrist injuries. The Argentinian has 2.3 million followers on Twitter and ask any player what they think about having him back on tour and the responses usually contain the words "great guy".
"I think we all happy that he's back on the tour," said Wawrinka, even if he would rather not have to play the former world No.4 in the second round.
If you were to list the injuries that can afflict a tennis player a wrist injury is possibly one of the biggest to fear and Del Potro has had surgery no less than four times; first on his right wrist, and then three times on his left wrist. His return to the tour has been slow and tentative and something that nearly didn't happen.
"I was close to quitting tennis at the end of the last year," the 27-year-old admitted. "But now [it] is completely different. I'm enjoying tennis again. I'm starting to talk about tennis and no more about my wrist.
"I would like to stay here on tour for more few years. I think I'm close to achieving that goal."
Del Potro credits the support of his fans, family and friends to getting him through those dark days away from the tour.
"My family and friends were very important for me," he said. "They were behind me all the time, [and] pushed me up every day.
"Everywhere when I play, the fans support me a lot. They don't care if I win or if I lose, they just want to see me playing again. That's great for me."
The Argentinean is working alongside Dani Vallverdu, former coach of Andy Murray and Tomas Berdych. It is a recent arrangement and one that will be reviewed after Wimbledon.
"We have a great relationship. We have known each other since juniors as players," said Del Potro of the Venezuelan. "He's a great person."
To accommodate the wrist injury and rehabilitation Del Potro has had to adapt his backhand and play with more slice, so in many ways the return to grass is a good thing. But it will be tough to play with this style against a player like Stan Wawrinka.
"This surface could help me a little more because I playing slices, I can serve and volley," he said. "I'm taking care of my wrist."
Wawrinka is not underestimating the world No.165, particularly given Del Potro's results in Stuttgart, where he defeated Grigor Dimitrov and Gilles Simon en route to the semi-finals. Del Potro leads the head-to-head having won the past three of their five matches, although they have not played since 2012. The Swiss won their only previous meeting on the grass in straight sets at Wimbledon in 2008.
"He always has been a great champion, a great player to watch also," said the Swiss No.2. "It's going to be a tough match for sure. I saw him play a little bit on grass in Stuttgart. He's playing well.
"I remember him winning the US Open against Roger [Federer]. It was an incredible match. I remember his match against Roger in the semi-final at the [2009] French Open as well [Federer won in five sets]. And a few matches I have played against him. Some tough matches, for sure.
"He was a really, really tough player to play. I think it's a really tough match. I will be happy if I can come back here and win that match."
Del Potro, who is playing at Wimbledon for the first time since 2013, is realistic about his chances: "This is my comeback after three years. I'm expecting be better in the future, but for this year my biggest challenge could be to finish healthy and ready to make good preparation for next season.
"When you win your first round, everything is much better. I'm looking forward to playing a great match against Wawrinka."